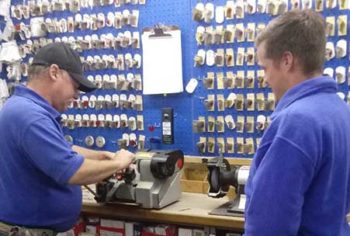 By Kristen Harper, Controller and HR Manager at Kenton Brothers, talking about the Kenton Brothers Apprentice Program
Kenton Brothers has decided to tackle the recruitment process a little differently by developing an in depth apprenticeship program. We've found that it's more challenging to instill the Kenton Brothers Core Values in an employee than it is to train the technical aspects of the job to a new employee.
The approach we've taken is to find individuals that possess the right work ethic, dependability, morals, integrity and ability to communicate and work well in a team environment. And then train them on the technical requirements from there.
The Kenton Brothers Apprentice Program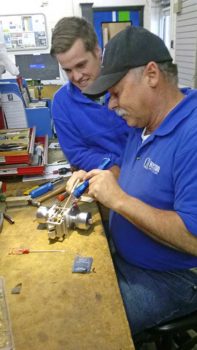 Each apprentice will start at our Customer Counter. They work on mechanical and locksmithing skills, like creating high security keys and understanding basic lock repair. And they do this for several months while learning the proper way to interact with our customers. Next, an apprentice will learn basic installation and field skills such a pulling wire runs. After a one to two year evaluation period of training and growth, we have multiple avenues an apprentice can choose. These include Field Services Technician, Retail Counter Technician and more.
We want our apprentices to find the right fit for them.
We're creating a capabilities matrix within our organization. This matrix will let an apprentice know where their current skill set is at. And what is needed to get them to the next level as far as position and salary.
It's important that every apprentice gets regular time with a supervisor. And we want our apprentices to have a defined career plan as we help them down the road of improving their strengths and minimizing any weaknesses through training. Every person in Kenton Brothers has the opportunity for a career that can lead all the way to an Executive Leadership position if they choose that path (and put in the work to achieve their goal!)
This is how Kenton Brothers is bridging the hiring gap and maintaining the Kenton Brothers Level of Service that our customers deserve and have come to expect from us.
Do you know someone that might be interested in becoming an apprentice with Kenton Brothers? Get started here.
https://kentonbrothers.com/wp-content/uploads/2018/01/Kenton-Brothers-Systems-for-Security_Apprentice-Program-02featured.jpg
304
451
Kristen Harper
https://kentonbrothers.com/wp-content/uploads/2017/10/Kenton-Brothers-Logo.jpg
Kristen Harper
2018-02-16 06:00:36
2018-08-27 15:12:15
An In Depth Look at the Kenton Brothers Apprentice Program