Securing the Bremer County Jail and Police Department
By Gina Stuelke, CEO of Kenton Brothers
Problem: Aging Systems protecting the Bremer County Jail and Police Department
The Bremer County Jail was last renovated in 2003 to house up to 79 inmates in a variety of configurations. Not only does this jail house inmates for Bremer County, but they also have contracts to house prisoners from other counties in the area. They also have a contract for federal prisoners.
Due to the extensive growth in these contracts, Bremer County Jail needed updated high-level security. The previous security systems were becoming obsolete and simply not meeting the increased demands. To enhance capabilities, Sheriff Dan Pickett and his team decided it was time to upgrade. Investing in a new security system would be vital for the success of the entire facility. Correctional officers would be able to utilize smart systems to increase the safety of inmates and improve effectiveness.
Sheriff Pickett worked closely with our engineering team, headed up by Brinton Hallum, to identify specific needs, desires, and expectations for the new systems of both administrative areas and the jail. The primary goal was to increase the capabilities and functionality of their security systems while centralizing administration.
Solution: Implementing Commercial Access Control and Video Surveillance
Bremer's previous system contained PLCs (Program Logic Controls) that were outdated and couldn't be upgraded. Our solution consolidated the previous PLC functionality with new integrations that met Bremer's needs and allows for future expansion. Even better, the way we architected the new solution will be a seamless transition for correctional officers and will provide them a chance to focus on higher level details.
Commercial Access Control

The new solution begins with card access control by Gallagher. This access control system then interfaces with a system of custom programmable logic controllers for general jail control, including lighting and water control. We added card readers on every cell door, every pod entry door, and intake. Users can scan their credential to not only gain access into these areas, but also turn on lights and record guard tour activity throughout the facility increasing the productivity of the facility.
The flexibility of the system assists administrators to meet Federal regulations and improve the safety and reliability of their daily operations while offering adaptability for future security upgrades.
Commercial Video Surveillance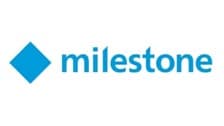 The next step was to implement a Milestone commercial video surveillance system with Axis cameras. This specialized system was chosen to provide full prison visibility, while utilizing camera analytics to improve facility awareness and guard effectiveness.
Integration
We leveraged Gallagher's strong integration with Milestone to make the correctional officer's lives easier through improved administration with specific alerts for various scenarios.
For example, by using motion detection analytics in the Axis cameras, Milestone can be alerted to the presence of an inmate on one side of the door and then notify Gallagher to deny card access through that door without proper level credentials. This gives guards a chance to control and notify the entire facility from a safe distance.
Because all systems operate on this network, the Gallagher access control system can signal the Harding intercoms to alarm various high decibel alerts allowing immediate notice of security threats. This can help alleviate the margin for mistakes and reduce the opportunities for officers to be in harm's way.
The specialized integration we have designed provides the benefit of less personnel required to manage the system and therefore offers them a way to do their job more efficiently and with greater precision. By allowing smart systems to help with the burden of security, Bremer County can be ensured that their facility will be protected with the utmost accuracy and highest level of performance.
"I can't say enough good things about Kenton Brothers. They have been great to work with including a few small changes as our project progresses. Brinton has been excellent in everything they have done keeping us informed on what the next step will be. I was concerned at the beginning of our bid taking with other companies doing such a huge project. I would recommend Kenton Brothers for a security upgrade such as cameras and jail controls!!!" – Sheriff Dan Pickett
https://kentonbrothers.com/wp-content/uploads/2020/12/Bremer-County-Sheriff-Dan-Pickett.jpg
237
362
Gina Stuelke
https://kentonbrothers.com/wp-content/uploads/2022/04/125th-Anniversary-v1.png
Gina Stuelke
2021-01-27 06:00:36
2021-05-19 14:56:22
Securing the Bremer County Jail and Police Department