By Ryan Kaullen, Field Services Manager at Kenton Brothers
Are you a company who has multiple sites across the city, the state, or the country? Do you wish you could control your video management software from a consolidated platform? Well, there is a solution!
Milestone Systems
Milestone Systems designs, develops and produces IP-based video management solutions for organizations of all shapes and sizes. Milestone XProtect® video management software brings all the puzzle pieces for video surveillance together. Choosing XProtect as a video management foundation means choosing a VMS developed by surveillance experts who continue improving their systems to solve your challenges. With 20+ years on the market, XProtect has proven to be the right answer for more than 500,000 installations worldwide – from flower shops to universities, stadiums and cities.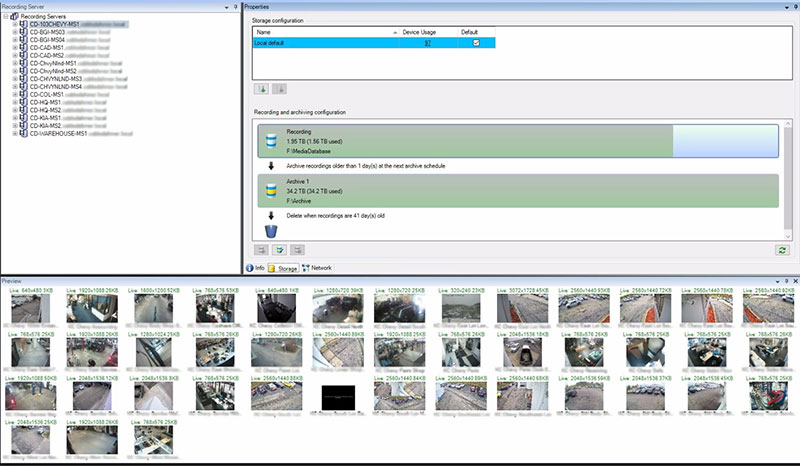 Connecting 84 Locations?
One of our recent projects was to consolidate 84 sites of video management into one global solution. This was necessary so that our customer's security team could manage all of their sites from a centralized location.
Each of the locations has an individual recording server, so the task was to get 84 video servers working together through the cloud. Each video server records video to local storage and then feeds it to any authorized client across the network enterprise when requested. This happens through a set of permissions configured on the centralized video management server. Once we had this configured correctly across all of the video servers, a user can log in once to view all 84 sites versus having to remember usernames and passwords for each video server. And Milestone's video management software makes it possible.
Each user that logs in to the system is given access to the specific cameras they need to be able to monitor. For example, some users might have limited ability to view cameras at a few locations, while super users can view every camera at every location. These permissions can be changed on the fly as the needs of business units change.
Lots of Variables

A unique challenge with this specific install is that it's spread across multiple states, different ages of existing hardware, different cameras, and different server models. Tying all these things together when you create this global solution can be tricky at times. It is vital that as you are migrating equipment, that you're documenting everything to make sure all existing cameras & equipment show up correctly in the new system. Video surveillance cameras play such a vital role in facility security… you don't want a camera to go down and not know about it. There were lots of small details we had to consider during this project, and we're proud that the final solution is exactly what our customer wanted.
If you're company is looking to consolidate permissions, sites, views, and access, while retaining the integrity of your security system, a global video management solution is a great option. Let's work together to talk about your needs. Get started here. We will help you implement a solution that fits your exact needs!
https://kentonbrothers.com/wp-content/uploads/2020/11/Kenton-Brothers_Milestone-Mgmt3.jpg
466
800
Ryan Kaullen
https://kentonbrothers.com/wp-content/uploads/2020/08/2020-KB-logo.png
Ryan Kaullen
2020-11-18 06:00:53
2020-11-06 11:55:28
You need to monitor your video surveillance at 84 locations? No problem.