The LenelS2™ Elements™ system is a comprehensive, yet simple, unified access control and video management solution built for the cloud. From single-site access control and video surveillance to more complex systems, the Elements system contains all the key ingredients for an effective and scalable, cloud-based solution; providing businesses with a brand-new security option that's as simple as it is essential.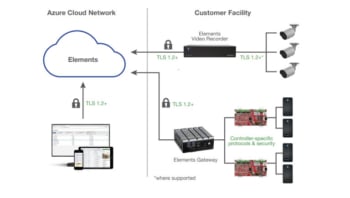 Perfect for Small and Medium-Sized Businesses
The Elements security solution is perfect for small to medium-sized businesses or satellite locations that need secure workplaces, but may not have permanent IT staff or security professionals. Easy to operate and maintain, the Elements system provides hassle-free, effective security that allows businesses to focus on more important things — like running their business.
Updates and enhancements are pushed in real time, reducing costly site visits. This makes budgeting more predictable and helps keep capital expenses down. Mobile first, the system can be accessed at any time, from anywhere. As the only unified access control and video management system that integrates with the OnGuard security management platform, the Elements solution can expand to meet a growing business' needs.
The Gallagher SMB line uses many components of their enterprise line. They've kept a few of their enterprise features, and added a lot more to make their products easier to use and manage with just a smartphone. Let's dive into the features.
Resource: Gallagher's SMB Solution Brochure
The SMB line adds many convenience features that are necessary for the SMB space.
First, the system is server-less and connected to the cloud. This means that you don't have another server to maintain and can access the system from anywhere you have internet access.
The system updates itself. You will always have the latest features and security fixes. Since it is cloud-connected, you can add and remove people and credentials from your mobile phone. You can also check to see if the system is armed and arm or disarm it from your mobile device.
Imagine being at a conference across the country and being able to arm your intrusion system in the middle of the night, because an employee forgot to do so when they left the premises. If you need to send a friend to check on your business, you can add them as an authorized person and assign a Bluetooth credential for instant access.
Multiple sites can be managed from one mobile app. This allows you to have multiple stores or locations that can be managed with one app and accessed through one fob or mobile credential. Speaking of Bluetooth credentials, an unlimited number of them come packaged with the system.
Case Studies: Kāwhia Primary School, Huntly College Old Boys Rugby Football Club, Hamilton City Gymnastics, and Chesters Plumbing.