Safeguard your students without turning their school into a fortress.
Implement effective, invisible and visible school security features that work alone and collectively to keep students, teachers and staff safe without creating a fortress-like environment that overshadows creativity and the learning process.
From locking a classroom door to locking down the entire building with the push of a button, a layered security approach leaves little to chance.
Learn more about our nine security solutions that work in tandem to protect those we hold most dear. Download the guide and then let's talk about how they can safeguard your students.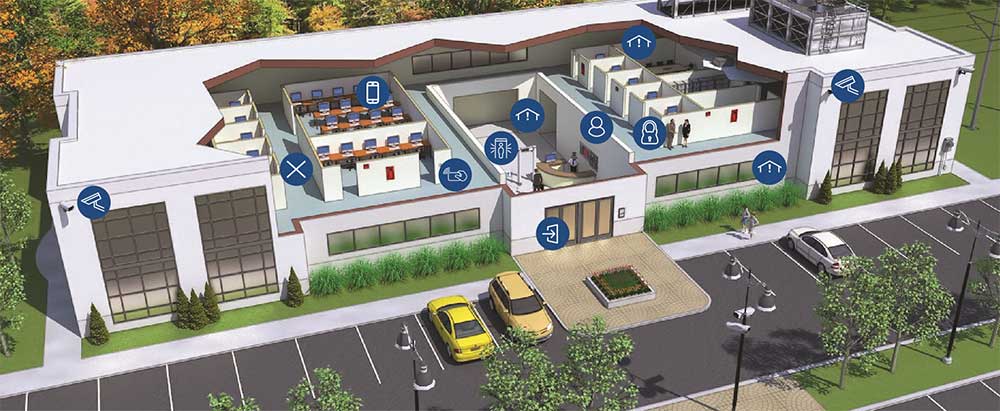 2
Architectural Locking Hardware

7
Emergency Communication Devices

8
Intrusion Detection Systems

1. Secured Entry Points

2. Architectural Locking Hardware

3. Access Control

4. Visitor Management
5. Metal Detectors

6. Video Surveillance
Secured Entry Points
Secure all entry points in your school to keep those inside safe. Active monitoring of
these entry points can immediately alert the authorities in case of danger.
Architectural Locking Hardware
Create a solid security foundation and protect against break-ins and vandalism with mechanical, cylindrical and mortise door locks, door closers, panic bars, keying systems and security-grade doors.
Access Control
Allow authorized users access to areas based on their role or job function, while keeping
unauthorized persons out of those areas.
Visitor Management
Can work with access control points and enhance perimeter security through registration, badges, tracking and managing the school's visitors, students and staff.
Metal Detectors
Add a level of contemporary security technology with Garrett hand-held or walk-through detectors.
Video Surveillance
Take advantage of an existing network to connect with surveillance cameras, giving a
clear view of people and grounds. Surveillance signage can deter would-be criminal acts, and images can be used to identify individuals and as evidence.
Emergency Communication Devices
Set up emergency communication devices to instantly alert groups and individuals of information regarding a situation. Notifications can be sent before, during and after events.
Intrusion Detection Systems
Allow people inside a classroom or other area to barricade doors and windows, protecting against intrusion. Kenton Brothers evaluates these evolving devices very carefully in context of schools' needs and recommends specific products accordingly.
Specialty Security Products
Provide both visible and invisible layers to your plan to keep teachers, children and property protected. Each solution can easily be integrated into existing infrastructure:
-Hide-Away® Emergency Shelters
-Ballistic Laminate
-Turnstiles