Make Your Spaces Safer, More Secure and Productive
Our super-intelligent robot patrols your workspaces detecting anomalies in real time. Incidents are managed via a two-way video touchscreen. Review status and incident reports for better decision making. Save time and money with fewer false alarms and outstanding efficiency.
Solve Today's Biggest Challenges
Cobalt's robots cover the gaps found in existing security tools and solutions.
Get Better Access Control
Supplement your access control systems, so you not only know who badged in, but also who's inside.
Get a Closer Look for a Better Camera Deterrent
Move closer and react sooner rather than after reviewing later thanks to angles and closer views fixed cameras miss.
Give On-Site Staff Unrivaled Support
Implement a cost-effective solution that reduces turnover, empowers staff and makes the most of your resources.
A Robot Built with People in Mind
The reliability of a machine with human flexibility.
Connecting Humans and Robots
Let robots take care of the tasks so that people can focus on decisions that matter.
Perfect Recall and Reporting
Leave nothing to chance with an objective, accurate account you can rely on.
Friendly, Approachable Design

Keep employees and customers at ease with robots designed to blend in.
Ingenious Engineering, Inside and Out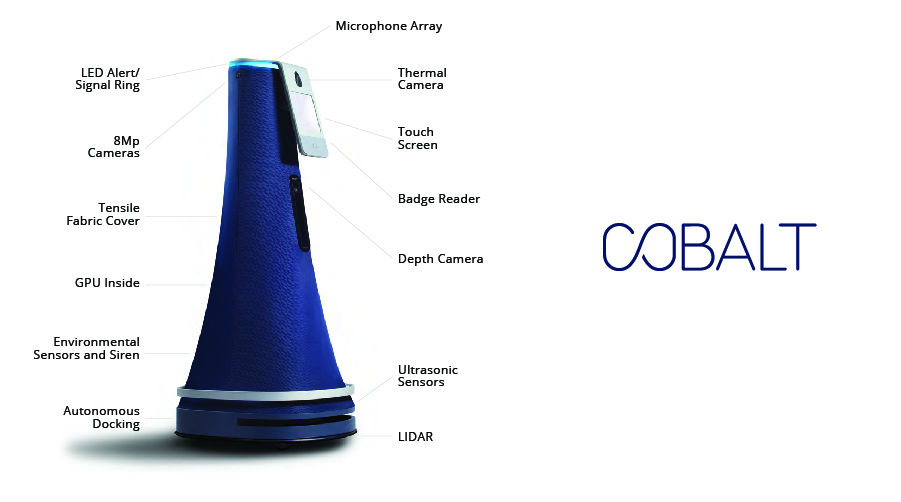 Cobalt's Robotics Improve Operations Like Nothing Else Can
Increase your operational productivity with Cobalt's security and facilities services, working in real time with your team to respond to intruders, safety issues, theft and potential environmental hazards.
Detect environmental anomalies like heat, humidity, CO and CO2 levels, and smoke
Maintain worksite and personnel compliance with OSHA regulations and safety protocols
Discover and mitigate risks from potentially damaging leaks and spills
Receive immediate notifications of unsafe conditions or dangerous situations
Discover how Kenton Brothers can increase security, lower costs, and reduce risk for your facilities and employees with Cobalt Robotics.