By Gina Stuelke, CEO of Kenton Brothers
Kenton Brothers understands that the COVID-19 pandemic has changed the nature of how business—and nearly everything else—will be done as we move forward. As many offices, buildings, schools, and campuses progressively prepare to restore their operations into a new normalcy, adding an extra layer of safety and security will help better protect your people, property and possessions.
To help you meet the increasing demand for thermal-sensing technology, Kenton Brothers is proud to introduce the Thermal Imaging Cart Kit. This exclusive solution requires minimal onsite assembly and gets you up and running fast! With this easy-to-use kit, you can add an additional thermal screening layer to safely view and communicate with everyone trying to gain entrance to your facility. The only item you would need, in addition to your thermal imaging camera, is the Video Management System (VMS) license for your existing systems to optimize your thermal and visual camera integration. It's a simple solution to a complicated situation—perfect for most points of entry.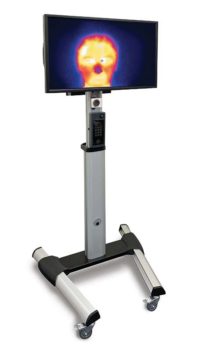 The Thermal Imaging All-in-One Mobile Cart Kit includes:
High-resolution monitor for enhanced visibility
High-definition security video surveillance camera
Two-way communications
Wheeled cart with casters for easy mobility
Complete your Thermal Imaging Solution with:
Thermal imaging camera
Optional VMS licenses or recommended software
UPS/battery power pack
For more information, contact the problem solvers at Kenton Brothers.