What is an Intelligent Opening?
By Alana Hanly, Sales Support and Administration Specialist at Kenton Brothers
As a person goes forth on the day to day grind, it's easy to forget how often we pass through all kinds of openings. It starts with leaving your bedroom, eventually walking out the front door or garage door and so forth. But how often do you pass through an intelligent opening?
Intelligent Opening
What is an intelligent opening? Simple. An intelligent opening is any kind of access point to a facility, internal or external, that assists in controlling the traffic going through them.
The control comes in many forms:
Mechanical locking hardware that can be installed on the door itself
Access control devices like keypads and readers that can be used with identification cards
Key fob credentials
Biometrics
RFID devices for mobile access
Automatic doors that use motion detection to allow entry
Turnstiles to secure entry points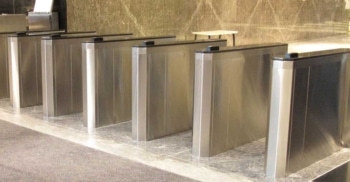 In a facility that has many employees entering and exiting all the time, automatic doors and turnstiles are a great option, seeing that they allow for many people to pass through quickly. These two make a great combination since the automatic doors don't necessarily provide access control, and a turnstile itself doesn't provide an entry way into the facility.
With the credentials of your choice, and at your facility's convenience, the turnstile works with your automatic doors to help streamline the entry process for the employee. Your security or front desk team can focus on their main job and greeting visitors. Let the intelligent openings take care of the rest.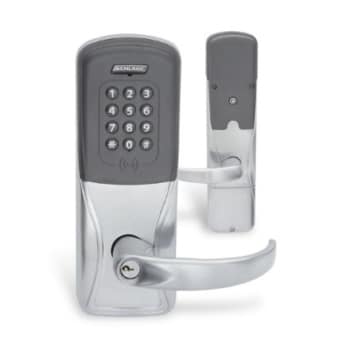 Regardless of your facility's size, there are places you don't want just anyone to be able to access, regardless of their affiliation. This is where mechanical and electromechanical hardware shine. There's a lot of versatility with either type of hardware. They can be applied in single door access control to hundreds of doors with access control, all to be used with the credentials of your choice.
Essentially, the goal with an intelligent opening is to improve the physical security of buildings and facilities based on their needs. This allows access for the people you know. At Kenton Brothers, we specialize in creating solutions to meet these needs. We take pride in what we do… securing people, properties and their assets.
https://kentonbrothers.com/wp-content/uploads/2018/09/Kenton-Brothers_Intelligent-Opening-02.jpg
398
606
Alana Hanley
https://kentonbrothers.com/wp-content/uploads/2022/04/125th-Anniversary-v1.png
Alana Hanley
2018-10-03 06:00:47
2020-02-12 08:39:42
What is an Intelligent Opening?