By Neal Bellamy, IT Director at Kenton Brothers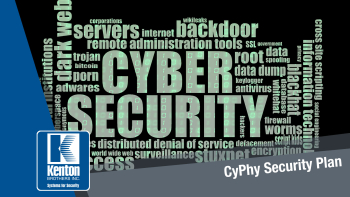 Lately we've been talking a lot about Cyber Security. As with all types of commercial security, Cyber Security is best implemented as layered defense. In other words, a single key or credential won't gain access to the entire kingdom. Also, like Physical Security, even a small oversight can become the launch point for a larger attack.
For years, Kenton Brothers has been doing our part to help maintain security on your physical security devices. We use unique, randomly generated passwords for all of your devices. We make sure the firmware is updated at the time of install and implement other industry standard security best practices. While it's a good start, there were still some gaps. So we are taking it to the next level.
The Kenton Brothers CyPhy Security Plan
Kenton Brothers is introducing our CyPhy Security Plan. Security is not a "set it and forget it" proposition. The security landscape, both Cyber and Physical, is always changing. It must be evaluated and re-evaluated to make sure the greatest number of holes are closed. With the CyPhy Security Plan we will still make sure your physical security systems are set up with the latest software, unique passwords, etc.
With this new program, we will follow the security hardening guides from all manufacturers, lock down all switch ports and ensure firewalls are set up and configured properly. After the initial installation is complete, we will be involved ongoing. We will monitor new releases from the manufacturer and alert you to any critical security related issues for your system. Furthermore, if you have the manufacturer's software upgrade plan in place, we will remotely upgrade your systems and firmware every 6 months.
Where applicable, the CyPhy Security Plan includes:
• Using unique and randomly generated passwords for each purpose and user
• Upgrading firmware to the latest supported version
• Setting the server firewall to only allow authorized communications
• Locking switch ports to allow only authorized devices
• Monitoring manufacturer's software for critical security alerts
• Enforcing encrypted communication wherever possible
• Disabling services, applications and ports not being used on devices
• Using unprivileged account for normal system usage
• Enforcing encrypted edge storage
• Filtering communication to local IP addresses only
• Disabling SD card slots not being used
• Following hardening guides from all installed manufacturers
We want the CyPhy Security Plan to dovetail into your existing cyber security plan.
If you have other cyber security initiatives already installed, like MFA, managed firewall, managed global service accounts, VPNs etc., we will help you integrate those into the physical security devices, networks and servers. We will also make suggestions to improve the security and operations of your systems. For example, deploying internet facing servers in the DMZ or connecting the security systems to Active Directory for ease of user management.
If you don't have a cyber security plan in place, you can rest assured that the physical security devices will be protected and can even use our commercial security best practices to increase the security for your other systems.
Of course, there is no un-pickable/un-hackable lock, and there will never be a perfect defense for cyber attacks. Setting up a layered defense will significantly decrease the chances of a successful cyber attack on your network. The CyPhy Security Plan is our commitment to protect you whether the attack comes to your front door, or from the internet.
To learn more about our CyPhy Security Plan, please give us a call and we will discuss your current setup as well as the benefits of ramping up your security efforts.
https://kentonbrothers.com/wp-content/uploads/2023/06/Kenton-Brothers_CyPhy-Security-Featured.jpg
1080
1920
Neal Bellamy
https://kentonbrothers.com/wp-content/uploads/2022/04/125th-Anniversary-v1.png
Neal Bellamy
2023-07-19 06:00:15
2023-07-19 17:38:56
Introducing the Kenton Brothers CyPhy Security Plan