By Gina Stuelke, CEO of Kenton Brothers
Kenton Brothers is all about protecting people, property and possessions. From access control to commercial video surveillance and application specific solutions, we are your one stop shop for commercial security. The Hide-Away™ storm shelter is a valuable tool to protect all three!

The Hide-Away is an innovative, space-saving storm/tornado shelter that can be folded to within 19 inches of a wall, when not in use, and quickly deployed, in just a few seconds, when the need arises. It provides a safe hiding place from storms, and will withstand up to an F-5 rated tornado. Various sizes are available to accommodate different numbers of people in a home, business or school.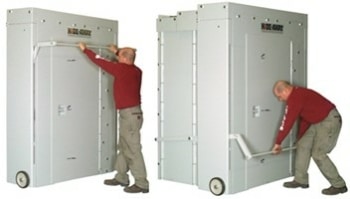 Mike Vogt, President and CEO of Staying Home Corp. said, "Historically, there have been two main obstacles to the storm shelter industry. Traditional units take up too much space, and an assembled unit is very difficult and expensive to ship. The Hide-Away solves both these problems, and we are very excited about how this product is going to expand the market, and provide safe haven in places where it was not feasible before, for either space or cost reasons.
There are several areas of the country where homes do not have basements, like Texas. A person can set one of these up in their garage or on a concrete slab within the finished home. Businesses can install the shelter to provide their employees a safe haven. Condos, apartments, schools – the potential is very high now that we have greatly reduced the space requirements."
Hide-Away™ Storm Shelter Can Protect School Children
Here are the top nine reasons you may want to install a Hide-Away storm shelter:
Protects People Property and Possessions in the event of disaster
Withstands up to an F5 tornado
Provides NIJ Level IIIA protection against hand guns and shotguns
Economical
Modular design
Installs in any room-can be retrofit into existing building
Can be expanded/modified to accommodate evolving needs
Variety of shape/configurations to accommodate different space requirements
Deploys quickly- in under 10 seconds!
Want to know more?
Contact one of our problemsolvers@kentonbrothers.com for more information and pricing.
Hide-Away is a product of Staying Home Corporation—which offers seniors specialized products to help them stay in their home longer, more comfortably and affordably. You can download shelter specifications in PDF format on their website.
https://kentonbrothers.com/wp-content/uploads/2020/09/Hide-Away-Storm-Shelter-01feat.jpg
275
411
Gina Stuelke
https://kentonbrothers.com/wp-content/uploads/2022/04/125th-Anniversary-v1.png
Gina Stuelke
2020-09-30 06:00:50
2021-05-19 15:31:31
Top 9 Reasons to Install a Hide-Away™ Storm Shelter