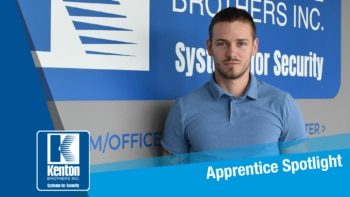 By Neal Bellamy, IT Director at Kenton Brothers
Kenton Brothers has run an apprenticeship program for many years. Typically, we've used the program to introduce people to the field of locksmithing. Locksmithing is not something you would find in a college course catalog and it can take many years to hone and perfect the craft. Likewise, coursework in electronic security can be hard to find. Adjacent coursework like IT management or computer science is close, but not a substitute for hands-on learning.
Meet Mark
Mark is an international student, studying at Central Methodist University. We started talking to Mark earlier this year. He was looking for a place to get some hands-on experience related to his computer science degree. Mark comes from Hungary, where his father is a well known, professional soccer player. Mark is a talented soccer player himself (and played professionally in Hungary.) Mark determined that while he enjoyed soccer, it wasn't going to be his career. So he found an opportunity to play soccer in the United States and with a scholarship for college. One of Mark's classes sparked his passion for computer science, causing Mark to add computer science as his third major.
Getting hands-on experience for any degree can increase your demand after graduation.
Computer science is so broad as a topic, one could specialize in dozens of fields. Kenton Brothers focuses on computer science in physical and cyber security. Computers are behind most of the systems in our world today, and physical security is no different. By focusing on the computer systems in physical security, we can make them easier to use and understand for our customers. We also increase cyber security for the installed systems and focus on where the physical and cyber systems converge.
Mark was able to use his time during an internship at Kenton Brothers to increase his knowledge of control wiring, physical security principles, and cyber security hardening. He earned two manufacturer certifications to springboard his physical security experience. Then he focused on programming a large installation throughout the summer with several smaller programming tasks. And he has been able to experience implementations of commercial security access control, cameras and intercoms.
We look forward to working more with Mark as he continues working towards earning his degree and after graduating. Hopefully, we've fostered a curiosity for him  within the computer science niche of physical security.
If you or someone you know is  interested in computers and would like to learn more about our internship opportunities, please visit our apprentice program page.
https://kentonbrothers.com/wp-content/uploads/2022/07/Apprentice-RSG-Mark-CMU-Featuredv2.jpg
1080
1920
Neal Bellamy
https://kentonbrothers.com/wp-content/uploads/2022/04/125th-Anniversary-v1.png
Neal Bellamy
2022-07-27 06:00:52
2022-07-13 12:46:07
Our Newest Apprentice? An International Soccer Player from Central Methodist University