By David Strickland, Vice President of Kenton Brothers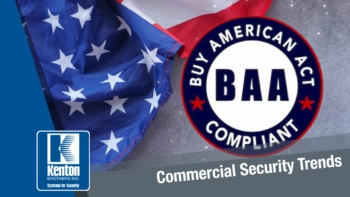 Whether it's the National Defense Authorization Act (NDAA) or Buy American Act (BAA),  the landscape of government regulations is changing quickly. Recently, the BAA is getting a lot of attention because of thresholds that the act has established for products used in federal projects or for federally funded projects. We've spent some time discussing the NDAA regulations previously in this blog. We will concentrate on the Buy American Act's new rules in this blog.
BAA – What You Should Know
THE BAA  is intended to protect US manufacturers and utilize US goods and products first.
Buy American Act (BAA) Two-Part Test
The BAA uses a two-part test to define a domestic end product.
– The article must be manufactured in the United States
– The cost of domestic components must exceed 60% (2023) percent of the cost of all the components
This regulation is for all projects over $10,000

The final published rules make several material changes to the regulations of the BAA.
1) Increased domestic content requirements.
The final rule increases the percentage of domestic content necessary for a product to qualify as a "domestic end product" in compliance with the BAA. Currently, the BAA regulations require a product to contain 60%  domestic components to qualify as domestic. In 2024 these same products must carry a 65% minimum threshold and this will increase to 75% in 2029. So current products having 63% of the components sourced domestically are considered BAA compliant, but in a year that will no longer be true.
2) The Fallback Threshold.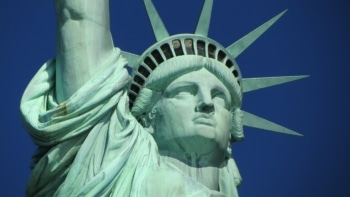 The current regulations have a "fallback threshold" for products that meet the current domestic content threshold but not the increased thresholds. The Fallback Threshold will allow agencies to use the existing 65% domestic content threshold in certain circumstances. This would be possible if the agency determines that there are no products that meet the new threshold, or such products are of unreasonable cost. The fallback threshold expires in 2030, one year after the domestic content threshold increases to 75%.
The government does allow for an agency to deem a product critical and exempt it from BAA compliancy on a temporary basis if the price is unreasonable. Waiver applications will go through the FTA. So far, even products that are in the 20-30% higher range have been upheld and BAA compliance is required.
The government has yet to publish a standard for what is "unreasonable" so all exceptions to the regulation must be made through the waiver request process.
3) Removes the commercially available-off-the-shelf ("COTS") exception. 
This was available during the pandemic to  lessen the burden on agencies trying to deal with the supply chain.
4) Established restricted countries of origin.
Cannot purchase or use supplies, material, or services originating in, transported from or through the following countries or entities:
China
Cuba
India
Iran
Iraq
Libya
North Korea
Sudan
The territory of Afghanistan controlled by the Taliban
Serbia (excluding Kosovo)
Entities controlled by the government of Iraq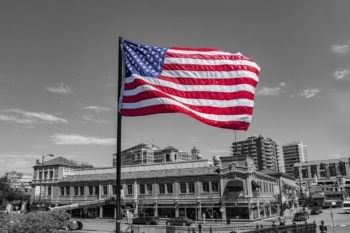 These regulations have a direct impact on physical security projects that are federally funded or are purchased by a federal agency. These regulations effect the following components that a physical security integrator may be providing or installing.
IP Video Surveillance cameras
Network and Digital Video Recorders
Switches
Servers
Access Control Components
Mechanical and electrified locking door hardware
Doors and Frames
Metal Detectors
Turnstiles
Intrusion Detections Systems
Cable
Government regulations can be difficult to understand, and Kenton Brothers Systems for Security can help you navigate these regulations for your next project. We have suppliers that meet the BAA regulations and can fulfill your project with compliant materials. Give us a call today!
https://kentonbrothers.com/wp-content/uploads/2023/02/Template-Buy-American-Act-featured.jpg
1080
1920
David Strickland
https://kentonbrothers.com/wp-content/uploads/2022/04/125th-Anniversary-v1.png
David Strickland
2023-03-15 06:00:18
2023-02-23 12:51:32
Does Your Physical Security Provider Understand BAA and NDAA Regulations for Federally Funded Projects?