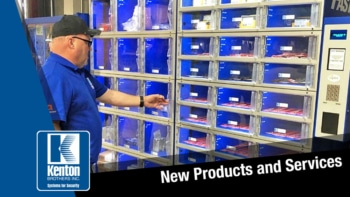 By Kip Phillips, National Integration Manager for Kenton Brothers Systems for Security
We're in the service and installation business—designing, installing and repairing commercial security systems. Our security technicians needed a quick and efficient way to get products and tools to help them do their work in a timely manner instead of spending wasted hours at a big box store searching for supplies.
After trying various methods to have in-house access to many common installation materials for our technicians to use during installations, we've implemented the Fastenal Vending Solution. Our installations require various materials from electrical tape, screws, conduit, boxes, drill bits, hole saws, tie-wraps and many more types of items and tools.
The FASTVend System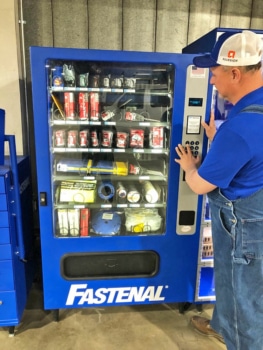 The FASTVend system provides access-controlled cabinets, lockers and vending machines to hold the exact parts we need for our installations. By having the parts available via access control, we can track the quantity of each item being used and which truck or project the parts are being used for.
Our technicians appreciate having the convenience of picking up their installation materials at the same time they are picking up system equipment at the KB office. This saves them so much time when compared to how we used to do things. (Traveling to supply houses to get parts and specialty tools.) This is a win/win because it also saves KB some of our labor costs. It also saves our project managers and staff in purchasing time because they don't have to preorder basic install consumables for each project.
FASTVend includes weekly restocking of the material we use.
Fastenal receives automated reports of each item consumed.
Initially, as a group, the technicians listed the standard items they prefer for installations. After refining and consolidating the list of standard materials, Fastenal set up the machines in our warehouse. User codes were programmed into the system for each technician.
The initial list wasn't an exhaustive list. Now that the system has been in place for a few weeks, the technicians have had a chance to add items they would like to see included in the vending machines. Building a complete inventory of items, and organizing them in an efficient manner, takes time and a collaborative effort.
Keeping the Trucks Stocked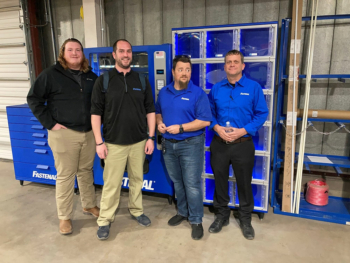 Our technicians use the vending machine system to keep their trucks stocked with basic consumable tools and installation materials as well as materials specific to ongoing projects. In the future, we'll be able to use the locker system to receive drop offs of new tools. And we will place broken tools and dull drill bits in the locker system for pick up and repair by Fastenal employees.
This new system has significantly cut down on the amount of receipts and paid invoices we had to keep track of as new projects were started. (We aren't in the business of storing paper…)
We still have room for improvement in utilizing this vending machine concept. But the FASTVend system is a game changer that's already proving its value to our organization!
https://kentonbrothers.com/wp-content/uploads/2022/05/New-Products-and-Services-Fastenalv2.jpg
563
1000
Kenton Brothers
https://kentonbrothers.com/wp-content/uploads/2022/04/125th-Anniversary-v1.png
Kenton Brothers
2022-06-15 06:00:03
2022-06-02 09:57:31
FASTVend? Wow! Check out this newfangled vending machine!