By Ryan Kaullen, Field Services Manager at Kenton Brothers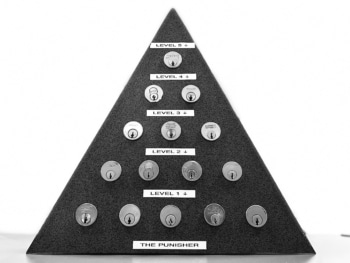 Kenton Brothers has created a lockpicking challenge for 2022 called The Punisher!
Lockpicking goes back to when the very first lock was invented and at Kenton Brothers our locksmiths have been picking locks from the start to get our customers into their locked doors. So we decided to have a little fun and come up with a contest for anyone who wants to go through the gauntlet of lock picking that we call "The Punisher".
The Rules
Have to pick a total of 15 locks in under 2 hours. Each lock on level 1 must be picked in 5 minutes or less. All locks on consecutive levels must be picked in under 10 minutes each. You can bank time if you pick a lock in under its required time… this time can be banked towards the next lock. If at any time you go over the time limit at any specific lock, your attempt is over.
Must use Kenton Brothers provided pick set.
Must be supervised and scheduled at the Kenton Brothers office located at 3401 E. Truman Rd Kansas City, MO 64127.
Please call our main line at 816-842-3700 to provide name and contact info to schedule your attempt.
Must be done from 9am to 2pm Monday – Friday.
Each person is only allowed one (1) attempt.
Any person attempting can't be a professional locksmith or a Kenton Brothers Employee.
The first person to successfully open all 15 locks under the contest time limit will be awarded $1,000.00.
We've been commercial locksmiths in the Kanas City community since 1897. And we are always looking for fun ways to engage with the community. This is a fun and friendly contest to show how hard it is to pick locks and provide a small insight to what Kenton Brothers does on a daily basis. Please give our office a shout today to schedule your time to give your best shot to The Punisher!
https://kentonbrothers.com/wp-content/uploads/2022/08/The-Punisher-featured.jpg
1080
1920
Ryan Kaullen
https://kentonbrothers.com/wp-content/uploads/2022/04/125th-Anniversary-v1.png
Ryan Kaullen
2022-09-14 06:00:45
2022-08-27 13:18:10
Kenton Brothers Lockpicking Contest: Beat The Punisher and win $1,000!