By Ryan Kaullen, Field Services Manager at Kenton Brothers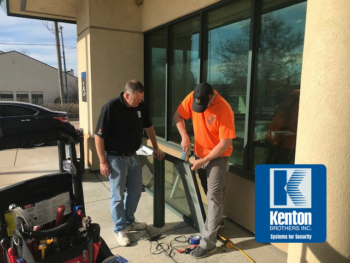 With Kenton Brothers being in business 124+ years we have seen a ton of changes in the security industry. What started out as only mechanical locks and keys has morphed into access control, camera systems, and intrusion detection. The founders of Kenton Brothers William and Leon would be shocked and excited at what this industry has become. (Both William and Leon knew how important it was to properly secure your facility.)
A trend we've been seeing recently is customers who spend a lot of money on their access control systems, cameras systems and intrusion  detection systems, but a lot of times keying is an afterthought (or no thought at all.) This is a mistake. Incorporating a controlled keying system helps complete your facility's security. If a person has a key and isn't authorized, they can do damage. It's so important to tie all aspects of security together.
Merging the Old with the New
The question becomes how do you take something that was developed hundreds of years ago in mechanical keys and locks and have it work properly with today's technology? The answer is planning. You plan how you want people coming in and out of your facility to have access in case of key override, power failure, safety concerns, etc. This common security need allows Kenton Brothers to create master key plans just like William and Leon did so many years ago.
An example of this in the real world is a banking customer of Kenton Brothers who ties in access control and a master key system. They have specific doors they flow traffic through and specific doors people can access via card readers, which also work using key override. The key override is driven by who should be able to access a certain space. Kenton Brothers recently did several installs for this customer allowing our mechanical and integration technicians to work hand in hand to secure their extensive facilities. As a result of being in the banking industry, this customer is on a high security system, adding another layer of security and protection to their facilities.
Questions you can ask yourself to help better secure your facility:
Do I know who has keys to my facility?
Should all of those people have keys?
Do I need to restrict access to certain sections or rooms?
Would the security of my facility and the people and possessions in it benefit from knowing exactly who has access to the facility at any time?
If you answered yes to any of these questions and need help implementing a solution, please reach out to Kenton Brothers. We will help you properly secure your facility from keys to access control and more!
https://kentonbrothers.com/wp-content/uploads/2021/12/Kenton-Brothers_Banking_Client-01.jpg
480
640
Ryan Kaullen
https://kentonbrothers.com/wp-content/uploads/2022/04/125th-Anniversary-v1.png
Ryan Kaullen
2021-12-15 06:00:27
2021-12-11 15:34:01
Access Control and Master Key Systems for the Banking Industry