By David Strickland, Vice President of Kenton Brothers
With hackers and subversives becoming more technically advanced, it is critical to national and local security to stay one step ahead.
One of Kenton Brothers System for Security trusted partners recently announced that their new line of commercial IP video surveillance cameras is FIPS 140-2 certified! What this means is that the H5A camera line now meets or exceeds Federal Information Processing Standards (FIPS).
The FIPS Standard
This standard requires that all information, including images and camera information, be encrypted to a minimum standard as it is being transported, processed or stored. This encrypted information can only be unlocked with a specific cryptographic key. So, if you don't have the specific key, the images or information look like random ones and zeros, making no sense to a hacker that is trying to gain access to your system.
Of course, this is wonderful news as Avigilon has extended the encryption all the way out to the commercial security camera. If someone was able to gain access to a camera feed, it would still be useless to them. This is a WOW! for high security sites such as Federal Government, Municipal Government, Corrections Departments, Financial Institutions and the list goes on and on.
This coupled with the fact that Avigilon is manufactured in North America and is TAA and section 889 compliant, makes it an easy go to for any federal, state or local agency.
Next Generation Video Analytics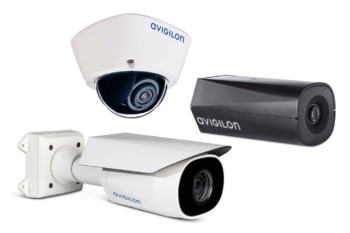 In addition to this high security update, the Avigilon H5A camera line also features next-generation video analytics technology.
The H5A line leverages the latest in AI-powered video analytics to detect and persistently track more objects – whether stationary or moving – with greater accuracy even in crowded scenes, detect unusual activity in a scene autonomously and apply facial recognition technology to alert off of face watch list matches. These advanced capabilities help provide detailed information on what is happening on your site so you can detect potentially critical security events faster and take responsive action, all while keeping the images and data secure.
The H5A line features unique object detection and self-learning video analytics, both of which allow clients to detect, confirm, and respond more quickly to incidents. These advances combine to create a smarter, more reliable CCTV system that utilizes the most powerful, intelligent technologies to ensure the safety of your people, property, and possessions.
We are very excited about this technology advancement!
Here are a few of the other highlights from the H5A Video Surveillance lineup:
The H5A line has camera image sensors with resolutions ranging from 2MP to and AMAZING 61MP and a few with 10K HD option
The camera line comes with a 5-year warranty standard
FIPS 140-2 CERTIFIED CRYPTOGRAPHY
Enables the camera to be deployed at sites requiring FIPS-compliant cryptograph
NEXT-GENERATION VIDEO ANALYTICS
Expanded object classifications and more accurate detection in crowded scenes so you can detect faster
Once mounted and aimed, the cameras zoom level can be adjusted and image can be focused remotely
LIGHTCATCHER™ TECHNOLOGY on board
Offers exceptional detail in areas with low lighting
AUDIO CAPABILITIES
Available ports for external audio including sirens, microphones and/or loudspeakers for audio talk-down situations
Want to learn more? Please schedule a demo with us today!
https://kentonbrothers.com/wp-content/uploads/2021/05/Avigilon-H5A-Camera-Line-01.jpg
953
1430
David Strickland
https://kentonbrothers.com/wp-content/uploads/2022/04/125th-Anniversary-v1.png
David Strickland
2021-06-09 06:00:33
2021-06-21 16:19:54
WOW! Avigilon FIPS 140-2 certification in its H5A commercial camera line!