By Neal Bellamy, IT Director at Kenton Brothers
I want to take a moment and talk about our amazing commercial security technicians. Technicians are where the rubber meets the road for Kenton Brothers. They are the ones who solve problems every day and make the systems work to protect people, property, and possessions.

It all starts with training.
Kenton Brothers supports many different technologies and products. Some of our team supports keying, master key systems, safety deposit boxes, safes, and more. Another part of our team supports commercial access control, video surveillance, intrusion detection, and analytics. Some of our people know a little bit about all of it… and some of them know a lot about some of it.
With such a wide breadth and depth related to what they do, training is incredibly important. When a technician starts with Kenton Brothers, we have them do several training classes to get up to speed. It gives newer security technicians an introduction to the way we provide commercial security solutions and the language that we use. Ongoing training gives the more experienced technicians a refresher. After earning their stripes, a career development plan is created to help them learn new or deeper skills to make them even more versatile and capable.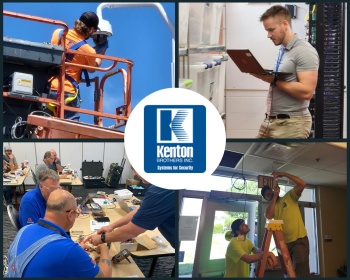 Learning from peers.
Training and classes can get you so far, but learning from your fellow technicians is just as valuable. Seasoned technicians take their skills and turn them into an art. Several on our team have been a part of Kenton Brothers for over a decade. They take great pride in their work and have learned how to hone their craft. Part of being a craftsman is teaching the next person how to be an artist themselves. Thankfully, our technicians love to share their knowledge with newer technicians.
Availability.
I also want to give some appreciation to our team for always being available. Sure, like many service based companies we have an after-hours program. This gives you peace of mind that your company can be secure even after many of us have gone home for the day. But this is more than that. Our technicians pick up the phone when another tech needs help. There are many oddities in the security world and sometimes you need a "phone a friend" to figure out what you're looking at. I am proud of the fact that our team is great about helping each other out, even when it isn't easy or required.
The Kenton Brothers technicians are the best team I've ever had the privilege to work with. They are some of the best in their industry, with a ton of knowledge and great big hearts.
If you want to be part of a team like that, and are willing to put in the work to become one of the best, give us a shout at careers@kentonbrothers.com. We are always looking for experienced security techs as well as good people who are ready to start a new career in commercial security!
https://kentonbrothers.com/wp-content/uploads/2023/10/Tech-Training-Featured.jpg
1080
1920
Neal Bellamy
https://kentonbrothers.com/wp-content/uploads/2022/04/125th-Anniversary-v1.png
Neal Bellamy
2023-10-11 06:00:52
2023-10-02 15:56:47
Our Technician's Secret Sauce: Ongoing training, learning from peers and working as a team.