Kenton Brothers Chili Cook-Off Results!
By Courtney Emra, Lead Customer Service/Sales Assistant at Kenton Brothers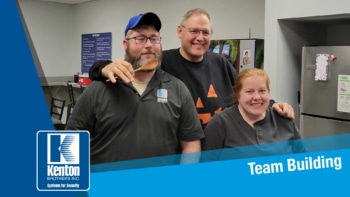 Every Halloween at Kenton Brothers, we get together for a chili cook-off. Our team brings the best to the table, from family recipes to just "winging it".
The Wooden Spoon Award
This year, we had 11 staff members enter the competition for the Wooden Spoon award. This spoon marks previous winners and will be passed along in the coming years. We all went through and tried each of the chilis and were surprised with the variety. Some were spicy while others were sweet. One was made with turkey and another made with Italian sausage!
And the winner is…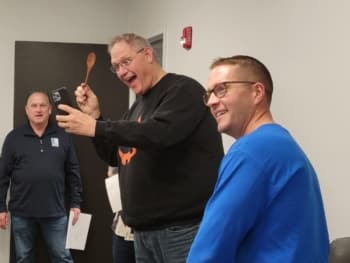 After our stomachs were full and the votes were in, the winner was announced: David Strickland!
I spoke with David regarding what was in his chili (and what made it so good.) He was inspired by a friend's recipe who has won the Lenexa Chili Cookoff four times. (Of course, David switched it up a bit to make it his own.) The key ingredient is BACON. He stated you cook the chopped-up bacon for the chili, but you don't throw out the bacon grease. You use that leftover grease to sauté your vegetables (peppers, onions, etc.) Another key ingredient is Ancho Chiles. He dehydrated them and then grounded them down to add to the chili. David mentioned that in his friends recipe, they said to use beef stock ; he decided to cut that out and use Sam Adams OctoberFest Beer instead. :)
We also can't forget to shoutout to our 2nd place winner: John Bushey and our tied 3rd places winners: Danielle Hoover & Gene Ross.
Congratulations to everyone! It was a delightful afternoon and a great way to spend time together as a team.
https://kentonbrothers.com/wp-content/uploads/2022/11/2022-Chili-Cookoff-Featured.jpg
1080
1920
Courtney Emra
https://kentonbrothers.com/wp-content/uploads/2022/04/125th-Anniversary-v1.png
Courtney Emra
2022-11-01 13:39:49
2022-11-01 13:46:10
Kenton Brothers Chili Cook-Off Results!