KB Way: Part 1- Be Respectful of your Equipment and Be Prepared
By Justine King, Sales and Marketing Administrator at Kenton Brothers
Be respectful of your equipment: Organization is a necessity for any great company.
Be prepared: Know your scope and be on time. Preparation is essential for every aspect of KB.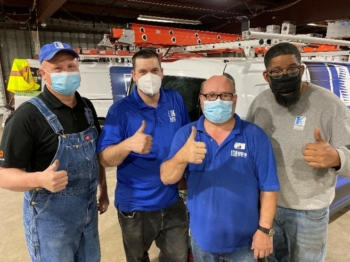 Our technicians are constantly in the spotlight outside of the office as a direct representation of the Kenton Brothers Systems for Security name. Therefore, it's crucial that our techs are prepared for anything that may arise before they leave the office for onsite services. This way, our team is prepared for whatever may happen on site – showing our customers the care we put into our craft.
A Van Cleaning Party?
Our techs gathered on a Thursday after work in the warehouse for a group van cleaning party organized by Senior Field Service Technician, Shawn Hamilton. The techs took the time gutting each van and deep cleaning every corner of their personal workspace. Because these vans and all of the equipment inside is KB provided, our techs took special care cleaning and reorganizing every tool and piece of hardware.
"I'm really picky about my own van and I love to have everything organized, labeled, and in the correct spot. I organized this event to share those ways with the other guys so they can find exactly what they need quicker and get the jobs done more efficiently for our customers. It really speaks volumes to the customers when we show up onsite prepared and don't have to stop back at the shop for parts or supplies." – Shawn Hamilton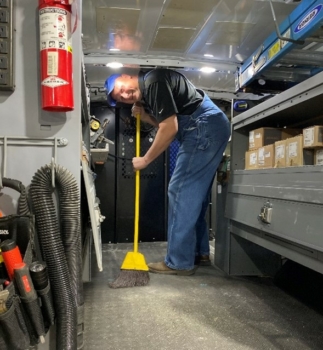 Labeling all parts and tools was a major task for many of the vans, but very important as well. Restocking was the last vital step to this full van makeover. Ensuring that each van was fully equipped with every part and tool is essential for the success of every onsite call.
Now that each van had been completely cleaned, some of the guys took Hamilton's advice and prepared general service bags for any basic service call. They also prepared more specific service bags ready to go for building access control systems, video surveillance, or safe work.
Following the van cleaning and organization event, Hamilton ordered pizza for the techs as they sat in the warehouse swapping shop talk of dos and don'ts for the jobsite.
Hamilton left the guys with the following goal: wash their van once a week and pick up and reorganize the inside after each job is completed.
Take care your equipment, and it will take care of you.
https://kentonbrothers.com/wp-content/uploads/2021/04/KBWay-Part1-01.jpg
557
743
Kenton Brothers
https://kentonbrothers.com/wp-content/uploads/2022/04/125th-Anniversary-v1.png
Kenton Brothers
2021-05-12 06:00:06
2021-06-21 16:26:29
KB Way: Part 1- Be Respectful of your Equipment and Be Prepared