By David Strickland, Vice President of Kenton Brothers talking about some amazing feedback we got from our team about working for KB.
At Kenton Brothers, we have a monthly meeting or get together to give and receive updates from every department. These meetings are a great opportunity to keep everyone aware of the progress we're making on our goals.
At the October meeting, we challenged everyone to think about and share why the loved working at KB. We had thirty responses with thirty-eight reasons why the enjoyed being at KB. And some of them really surprised us!
Here's what we learned.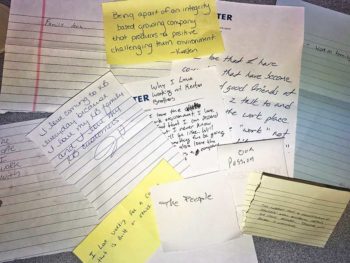 The top two most common answers were: "The family culture" and "The people I work with."
Half of the respondents talked about the culture and people they get to see every day at work. One person wrote, " I love coming to work every day because of my KB family. I love my KB family and MY KB customers!" Another response was, "Everyone is like a family. They care and have your best interests at heart." When talking about co-workers, one person wrote, "The support, trust and understanding of everyone, even when things go wrong."
Other common replies included:
The company core values and helping people stay safe.
One person wrote: "I love working for a company that is built on ethics!"  While another person shared, "I love being a part of a integrity based company that produces a positive challenging team environment".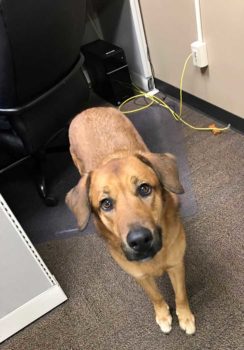 Then there was the big surprise… pets. Yes pets in the office was next. Ha! We're a pet friendly office and many times you'll see a dog or two running around. One person wrote, "I love the fact that I can bring my dog to the office with me and everyone stops by and says hi."
The opportunity at Kenton Brothers was the next highest response. One of our fabulous technicians wrote, "I love the opportunity at KB. Not many companies are willing to help you grow personally and professionally." Another technician wrote, " I love the fact that I have an opportunity to work and train up to any position in the company. I get to install quality products and help protect people all over the city."
Many of our team members mirrored those comments with notes about "having the freedom to do their job well" and "I love being a part of a 120 year old tradition."
One of my favorite responses:
One note in particular summed up why I love working at KB. A member of our Operations team wrote:
"I love the work environment. I love the fact that I can depend on my coworkers even though I never know what my work day will be like.  Will there be pets in the office today? Will something fun be going on? Most likely yes! I also love the fact that Kenton Brothers is a company that values it's employees!"
Well said. I couldn't agree more!
I personally learned a great lesson from this endeavor. As a leader in a great organization, I often wrestle with how to tell our story, how to articulate how special our organization is. I feel it, but struggle with the right words to describe it. What I learned is to let our work family members tell it, and use their words to pass it on to you.
I would like to challenge you to ask the same question in your organization!
https://kentonbrothers.com/wp-content/uploads/2017/10/Kenton-Brothers-Tough-Question-04web.jpg
601
800
David Strickland
https://kentonbrothers.com/wp-content/uploads/2017/10/Kenton-Brothers-Logo.jpg
David Strickland
2017-11-09 14:11:40
2018-02-06 08:57:27
We asked our team a tough question. Here was the response.