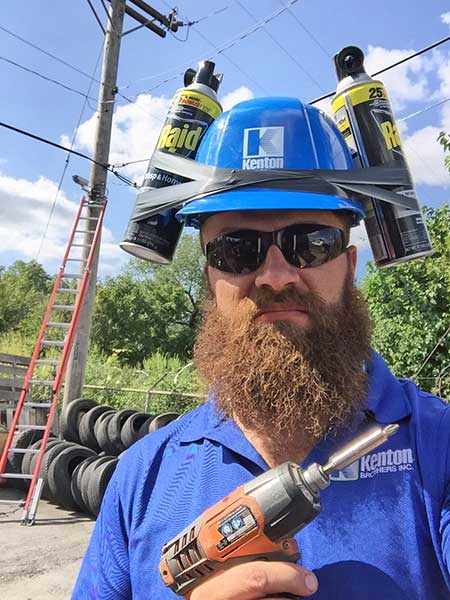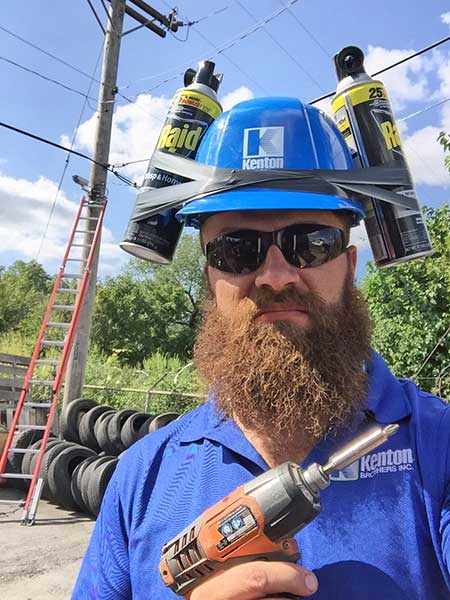 We would like to introduce to you one of our security installation techs, Jeremy Shinneman. Jeremy always has a great way of finding solutions when dealing with a touchy situation.
On a typical hot summer day in Kansas City, Jeremy was dispatched on what should have been a typical service call with one of our valued customers. Jeremy is always determined to do a great job and overcome any obstacle in his path. On this particular service call, Jeremy had some unwanted helpers.
As Jeremy was making his way up the ladder to work on a camera, wasps started to dive bomb him and make it a hazardous situation.  Jeremy, who is always determined said to his helpers,  "I don't think so!"
Jeremy went to work using his 'Magical Hardware bag' to build his a customized defensive device… a self-contained, wasp repellent hard hat system designed to get the job done.
Here is the story in Jeremy's own words:
I went to hang a camera and out of the base mount comes what seemed to be the entire population of Midwest Prehistoric Pterodactyl Half Bat Wasps! But with my morning practice of Ninja hand air moves in the driveway, while the van warms up, I was ready. Those wasps had no chance when I climbed down the ladder to put my redneck engineering degree to its prime use.  R.I.P to the entire population of the Midwest Prehistoric Pterodactyl Half Bat Wasps!
https://kentonbrothers.com/wp-content/uploads/2016/11/Jeremy-01.jpg
600
450
Neal Bellamy
https://kentonbrothers.com/wp-content/uploads/2017/10/Kenton-Brothers-Logo.jpg
Neal Bellamy
2016-11-10 15:36:54
2020-03-20 17:20:17
Jeremy's Magical Hardware Bag