By Neal Bellamy, IT Director at Kenton Brothers, talking about the recent Kenton Brothers Chili Contest held at our offices.
What do you do when there's a chill in the air? Make chili, of course.
As the summer winds down and the leaves begin to change, we decided that a chili cook-off was in order. If you didn't already know, Kenton Brothers has a passion for two things: Security & Food.
Food might actually come first. As the signup sheet was posted, the office was filled talk about all kinds of chili, chili recipes, and mouth-watering anticipation for the big event. One entry called "Spicy Hugs" had the whole office talking about presentation and what it might taste like.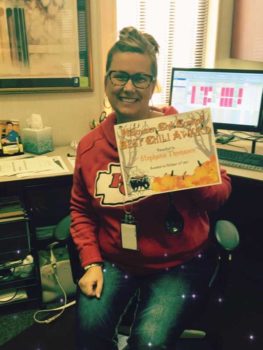 On a recent Tuesday morning, the kitchen filled with people and food. The air began to smell like Fall. Homemade cornbread, all the chili fixins and several pots of chili were made ready. Some people couldn't wait for the starter pistol (I'm looking at you Kassie).
Looking at the various entries yielded interesting ways of making chili. Some had lots of beans, some with little. One or two were spicy, one was made with beer and one was made with cream cheese. All were good! Once it was time to eat, people talked as they stood in the kitchen and in the halls. Some of our guys were able to come in from the field, which is always nice. Lots of people went back for seconds, not much was left to take home.
After lunch, the votes were tallied. The winner by a narrow margin was Stephanie Thomason with her Chicken Enchilada Chili. I'm pretty sure the cream cheese is what pushed it over the edge. It was nice to stop for a minute and enjoy the company of the people that we work with. Food always brings us all together. Congratulations Stephanie on a chili well made!
https://kentonbrothers.com/wp-content/uploads/2017/11/Kenton-Brothers-Chili-Contest-04featured.jpg
461
600
Neal Bellamy
https://kentonbrothers.com/wp-content/uploads/2017/10/Kenton-Brothers-Logo.jpg
Neal Bellamy
2017-11-22 13:33:55
2018-02-06 08:59:23
Spicy Hugs at the Kenton Brothers Chili Contest!