Safety in the Workplace… KB Style.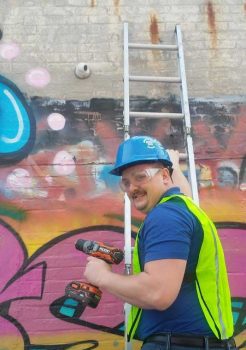 For ages and ages it seems we've heard the rules and regulations of being safe at work and how best to achieve that… but has anybody cracked down on the why? We've actually broken down the impact of injuries not only for an employee but for the company as a whole.
At Kenton Brothers, we've been spending a lot of time revamping our safety program and implementing regular training sessions for our technicians and team members. We want our employees not only to understand how to remain safe but why it's important beyond the physical aspect of being hurt.
When someone gets hurt on the job, they might not be able to do their normal duties for a period of time. The incident is also documented and counted towards a company's injury ratings. These injury ratings can prevent companies from obtaining certain work and can seriously impact insurance premiums. Therefore, it's extremely important for companies to make sure that their employees are equipped with the knowledge and tools to be as safe as possible while doing their work.
Kenton Brothers has been holding weekly safety meetings and retraining on subjects such as ladder safety, personal protective wear, and tool safety. We're also making sure that every technician and field management team member has a minimum of OSHA 10 certification. We want our employees to feel empowered to always do the right thing (a Kenton Brothers core value) and be safe in any situation. This is the best outcome for our staff and customers.
Hopefully this has helped put into perspective why companies write safety manuals and ask their employees to review them. I also hope it helped you to understand why there's so much emphasis on safety training. Safety is so important for not only yourself but the many others that can be effected by the simplest of trips, slips or falls.
https://kentonbrothers.com/wp-content/uploads/2017/05/KB-Safety-Featured.jpg
477
534
Kenton Brothers
https://kentonbrothers.com/wp-content/uploads/2022/04/125th-Anniversary-v1.png
Kenton Brothers
2017-05-04 14:15:43
2018-02-06 09:27:39
Safety in the Workplace… KB Style.