SmartScan Screening Solutions from Garrett Metal Detectors
By Alana Hanly, Security Consultant at Kenton Brothers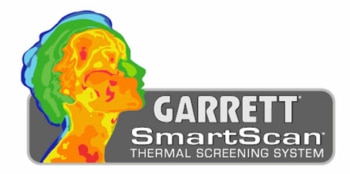 In 2020, many businesses have responded to the ongoing COVID-19 pandemic to provide solutions that we at Kenton Brothers like to call COVID Fighters. Our partners at Garrett Metal Detectors have developed a fully HIPAA compliant solution called SmartScan. This technology allows you to assess an average of 400 people an hour for health and safety screenings, hands on or hands free, in a single walkthrough.
Key Features of SmartScan
Quick-start operation
Fast detection of incoming traffic
Does not slow down your existing screening process
No technical staff needed to make initial temperature evaluations
No additional components requiring more floor space
Intuitive status indicators for startup, calibration, and elevated temperature alarms
A CTR (Constant Temperature Reference) is not required for operation
Visual and audible alarm options
False Alarm mitigation through non-facial detection sensing
Visual and audible alarm options

Patron Throughput Counting
Compliance
The SmartScan Metal Detectors are made and assembled in Garland, Texas, making them Buy American Approved, Section 889 Compliant, and NDAA Compliant for our critical infrastructure. This means that they are an approved investment with Cares Act Funding and utilize technology only from safe trade partners.
SmartScan Technology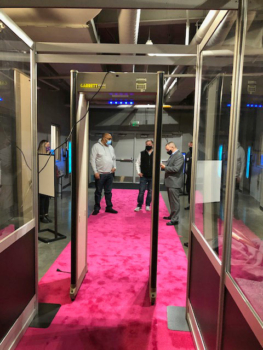 The SmartScan system will scan temperatures using a dual camera system that can discreetly provide a lighted "Go" or "No Go" indication to an operator assigned to the unit. When no operator is present, the indication system is easy to understand, allowing guests to proceed through the detector with no delays. In addition, it will also generate the throughput counts for review without keeping any other personal data of guests or employees that use these walk through metal detectors.
This solution is offered as a new accessory feature to the PD 6500i and MZ 6100 units, and existing units can be retrofitted with the technology. The field upgrade process is a quick process for existing Garrett users. For PD 6500i users, Garrett's Quick-Q™ cellphone elimination technology can be used in conjunction with SmartScan to further expedite the screening process and promote touchless screening.
This is a great solution when you need to quickly assess a lot of people moving through commercial spaces.
Please let us know if you would like to learn more about how Garrett Metal Detectors with SmartScan technology can protect your People, Property and Possessions.
https://kentonbrothers.com/wp-content/uploads/2021/02/Garrett-Metal-Detectors-Smart-Screening-Featured.jpg
600
800
Alana Hanly
https://kentonbrothers.com/wp-content/uploads/2022/04/125th-Anniversary-v1.png
Alana Hanly
2021-02-10 06:00:32
2021-05-19 15:32:12
SmartScan Screening Solutions from Garrett Metal Detectors