A new era for church/school security: St. Thomas Aquinas, Wichita
By Gina Stuelke, CEO of Kenton Brothers
LOCK DOWN with a press of a button!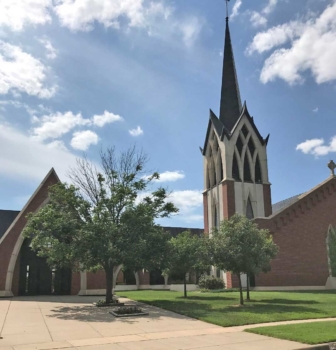 Located in the northeast part of Wichita, St. Thomas Aquinas Catholic Church was established in 1957 with 150 families. The following year, they opened a parish school to serve their community. Now, the parish boasts more than 1300 families and a parish school of nearly 550.
St. Thomas decision makers included security and specifically keyless entry or access control into their strategic planning process. This step in their security plan was accelerated with the help of some generous donors and a re-prioritization of funds to accomplish this goal in the summer of 2018.
Kenton Brothers Wichita team worked closely with the St. Thomas Aquinas team to design an S2 Security, web based access control system. S2 was the solution of choice to provide the ultimate in ease of use by administrators, flexibility for expansion and integration with future systems, such as video surveillance.
According to St. Thomas' Business Manager, Shelly Babich, "our number one goal was to actually control access to the church and school in real-time. We wanted better control over who enters the building, when they enter the building and where they enter the building. If necessary, we have the ability to go into immediate lock down. We can also be notified if a door is left open. We can easily give temporary access to parishioners and lost keys will no longer be a major issue.
Our access control system will make building access and key management much easier and safer for our staff while giving us a higher level of protection for our students, parish families, priests and staff."
Access control is a powerful tool to protect your people, property and possessions. Let Kenton Brothers share their 120 years of experience and walk you through the steps to securing your campus, contact us today.
https://kentonbrothers.com/wp-content/uploads/2018/09/Kenton-Brothers_St-Thomas-Aquinas-01web.jpg
865
933
Gina Stuelke
https://kentonbrothers.com/wp-content/uploads/2022/04/125th-Anniversary-v1.png
Gina Stuelke
2018-10-10 06:00:49
2018-11-06 13:14:02
A new era for church/school security: St. Thomas Aquinas, Wichita