Mechanical Hardware Guru Bill Harris Implements Record Setting Mechanical Sale As He Approaches Retirement
The Kenton Brothers headquarters is based in Kansas City, MO but we do work across the United States to take care of our customers. Some of the most rewarding jobs are those close to home.
In 2021, Kenton Brothers was awarded a job for Bartle Hall Convention Center located in Downtown Kansas City, MO. What also makes this job special are two of the gentlemen involved in this project. Bill Harris of Kenton Brothers and David Mullins with Bartle Hall. Both Bill and David have been long standing pillars with their respective companies and both are going to be retiring in the near future. The job itself is being run by Zack Holden, one of Kenton Brothers' Project Managers.
The Project
The two main vendors involved in this project are Alarm Lock and Sargent Manufacturing.
The scope of the project is installing door hardware, new power supplies, Alarm Locks, coordinating new door & frame installs, new electrical work, and more across 75+ openings. This job has many tricky facets to it including coordination of sub-contractors, coordination of where we can work (different rooms are in use for events), keeping low voltage wires hidden, and even the coordination of parts being delivered. All of these variables add complexity to the project.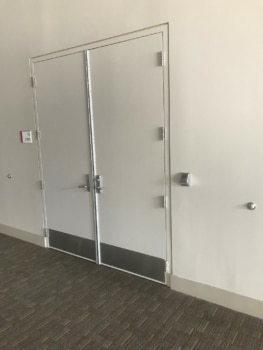 No Exposed Cables
This is a door to an event space in Bartle Hall. They initially thought that we would have to bring wire mold down from the ceiling. For a cleaner and aesthetically pleasing install, we were able to design a solution by pulling cable in the drywall instead of having the cables exposed.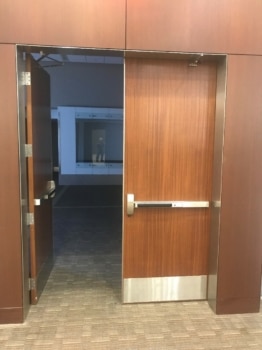 Exit Bars
We added exit bars to dozens of doors for this project. This was required to get their facility up to current life safety code standards.
Kenton Brothers loves these types of projects.
Large, complicated projects allow us to show what makes us different than our competition. Kenton Brothers, under one roof, has technicians that understand locksmith work, mechanical door hardware, commercial access control integration, commercial video surveillance and the ability to source and coordinate subcontractors. The end result is that our customers look to us as their single point of contact for large projects.
We want to thank Bartle Hall for trusting us for this project and we also want to give a farewell send off to Bill Harris who has been with Kenton Brothers 17+ years, you picked a great time to sell your largest project!
https://kentonbrothers.com/wp-content/uploads/2021/07/Bartle-Hall-01web.jpg
600
800
Ryan Kaullen
https://kentonbrothers.com/wp-content/uploads/2022/04/125th-Anniversary-v1.png
Ryan Kaullen
2021-07-28 15:34:46
2021-07-28 15:40:22
Mechanical Hardware Guru Bill Harris Implements Record Setting Mechanical Sale As He Approaches Retirement