The Breakfast Club! Quarterly family meetings at Kenton Brothers.
By David Strickland, Vice President of Kenton Brothers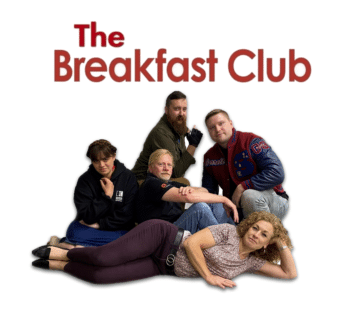 Quarterly Family meetings at Kenton Brothers Systems for Security are in a word: AWESOME!
Yes, we call our quarterly meetings Family meetings. Why? Because we're a family business and our connection to each other is more than just an employee/employer relationship. We're connected, like a family, through the best of times and the worst of times. When you go through good and tough times together, it creates a bond. Stronger than friendship… we're family.
Last year (2020) was a tough year for everyone including our family members. Kenton Brothers Systems for Security is a critical infrastructure protection company and an essential business. We were open during 2020, but it was very different. Our field personnel couldn't be in the office for meetings. And there were strict protocols in place for sanitization and social distancing that made contact and communication difficult.
Our teams had to sanitize before entering job sites in the mornings and their homes at night. They had to brace for the unknown each day, and they did it without wavering. 2020 was tough, but it brought out the best in our teams. Even though we weren't able to be together, the teamwork was never stronger!
Welcome Back!
Fast forward to 2021 – It's looking a lot better. Recently, we were able to hold our 2nd quarter family meeting. The night before we held a "getting back together celebration, that included a happy hour with board games and puzzles as well as a tasting of offerings from Boulevard Brewery, both non-alcoholic and alcoholic. (Thank you Boulevard Brewery for your support and for being a great customer!)
It was a great bonding time. Seeing everyone together again was awesome. The laughter filled the showroom and the gamesmanship was in full effect. This is a competitive bunch!
The next morning, we had our traditional Family Breakfast complete with French toast, bacon, eggs, potatoes and fruit. Breakfast Club is what we call it and there's nothing like starting off a day of updates, collaboration, training and learning with bacon and good coffee!
Where we're at, where we're going and how we're going to get there!
Quarterly Family Meetings are important at Kenton Brothers because they give us a chance to let everyone that makes up this family know where we're at, where we're going and how we're going to get there.
This meeting allows us to celebrate our performance and reaffirm how important our core values are. It gives us time to talk about our boss… The Customer and how important they are to us. It also serves to reunite out satellite offices and help them know they're part of something much bigger than their four walls.
This one in particular also helped remind us that we really missed being around each other over the last year. It helped us remember how blessed we are to have each other and to call each other Family.
How has your company culture fared over the past 15 months? Are you taking the extra time to encourage connection and celebrate reunions as everyone gets serious about going back to the office? We would love to hear your stories… and thanks for being part of our story by reading this one!
https://kentonbrothers.com/wp-content/uploads/2021/06/breakfast-club-.png
765
866
David Strickland
https://kentonbrothers.com/wp-content/uploads/2022/04/125th-Anniversary-v1.png
David Strickland
2021-07-21 06:00:56
2021-06-29 14:42:41
The Breakfast Club! Quarterly family meetings at Kenton Brothers.