Kenton Brothers Retrofits St. Patrick's Mid-Century Building with Video Surveillance Technology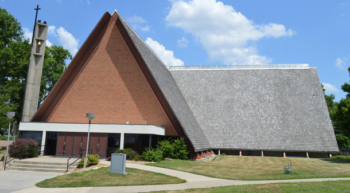 St. Patrick Parish was founded in 1873, and St. Patrick School opened in 1949, staffed by the Sisters of Charity of Leavenworth. The Sisters lived in the parish convent, which became the current Early Education Center in 2007. A new St. Patrick Parish Center was built in 1992 and hosts parish meetings and receptions, basketball and volleyball games, and P.E. classes for approximately 285 Pre-K through 8th grade students.
The Problem
During the time St. Patrick's Mid-Century building was constructed, it was not uncommon to use asbestos as insulation and in textured paint or patching compounds for wall and ceiling joints. The U.S. government didn't begin regulating its use until the 1970s, and today, it remains in buildings, like St. Patrick's School and numerous others.
Kenton Brothers had to create a solution in which we could install today's video surveillance technology to help keep parishioners, students, staff, visitors and parish property safe without using the usual installation route through ceiling tiles, walls, etc. Considered safe if left undisturbed, our team had to ensure nothing we touched would result in a hazardous and costly situation.
The Kenton Solution
Working with and around asbestos is a common occurrence for Kenton Brothers since we've been securing Kansas City buildings since 1897. Experienced with retrofitting older buildings with the latest security technology, our team ran cabling for the video surveillance through the basement and up walls in conduit. Rather than disturb the ceiling tiles, we used wall camera mounts.
Kenton upgraded St. Patrick's school firmware so that the new video surveillance system would integrate with the existing access control system for a total security solution.
"Kenton Brothers took care of our video security needs from start to finish. Their design team, communication with us in making sure we were satisfied, their professionalism, workmanship, and competitive price were top notch. We are very pleased with our system and their commitment to service and our satisfaction." – Tim Conrad, Principal
https://kentonbrothers.com/wp-content/uploads/2020/02/St-Patrick-School-Installation-2020featured.jpg
450
610
Kenton Brothers
https://kentonbrothers.com/wp-content/uploads/2022/04/125th-Anniversary-v1.png
Kenton Brothers
2020-02-26 06:00:25
2020-03-23 13:56:46
Kenton Brothers Retrofits St. Patrick's Mid-Century Building with Video Surveillance Technology