All chips great and small. How microchips are holding the security industry hostage.
By David Strickland, Vice President of Kenton Brothers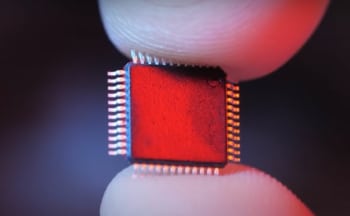 You  may have heard… There is a chip shortage. Current projections by industry insiders say that things will return to normal in early 2023.  Last month, STMicro CEO Jean-Marc Chery said that while "things will improve in 2022 gradually, normal product availability won't return "before the first half of 2023".
Many factors have caused the shortage including the Pandemic, a fire and a drought. There are only a few microchip manufacturers across the globe. With the NDAA (National Defense Authorization Act) marginalizing Chinese chips in the American marketplace, it comes down to three plants available to the security industry. One plant had a major fire last year that impacted its ability to produce chips as late as August 2021. The largest facility, located in Taiwan, has been affected by a severe drought over the last 18 months. The factory requires 63 tons of fresh clean water a day in production. These factors as well as an all time high in demand have led to a crushing shortage.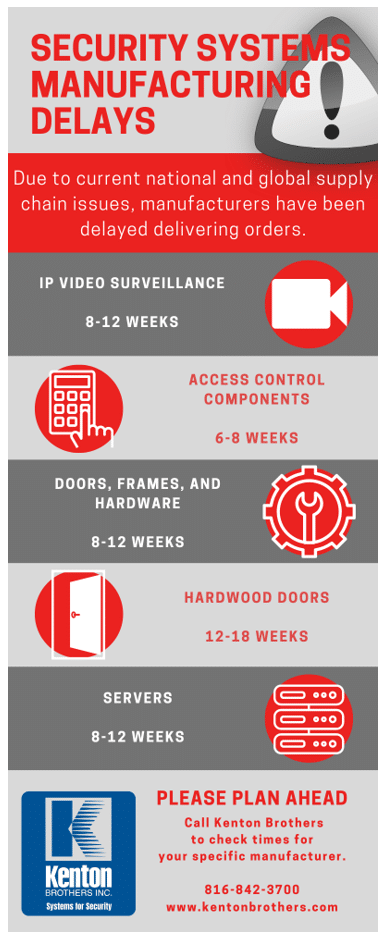 Major car companies are projecting 110 Billion in losses in 2021 by not having enough chips to meet demand. If you have recently tried to rent a car, you've seen it firsthand. Car rental companies all over the globe have sold off their stock because they're getting premium prices with the new car shortage. Simply stated, there are fewer cars to rent, so the price has inflated with demand.
How is this affecting the security industry?
Some manufacturers have recently issued warnings that some product lines won't be available for 18 weeks, or until February 2022. A security manufacturing insider recently shared, "Make no mistake, if a component has a chip in it, it will be delayed. This problem effects everyone involved, from the manufacturer all the way to the end user."
Current estimates for many components : (09/21)
Commercial IP Video Surveillance : 8-18 weeks
Access Control Components : 6-18 Weeks
Doors Frames and Hardware : 8-12 weeks
Hardwood Doors : 12-18 weeks
Servers and Switches : 8-12 Weeks
So if this is the obstacle, how do we solve it?
Kenton brothers Systems for Security has been around a long time and has some experience with dealing with obstacles. We've been through two world wars, the Great Depression, the Great Recession and 5 pandemics. 123 years has taught us something. There's always a way to get it done.
Top 5 Tips for overcoming the great Chip Crisis of 2021 – Security edition
1. Communication
(The number one way to over come the chip crisis.)
Have regular meetings with your customers and help them understand their choices. No one likes to be confronted with a no option crisis. At Kenton Brothers, we like to come with solutions. You won't be defined by having a global chip crisis. You will be defined by how you respond to it. Options, planning, and communication all work together to overcome any obstacle.
The reality of the chip crisis is that it will effect your business. The response to the crisis is what counts.
2. Substitute
Have a list of resources available to use for substitutions. If one manufacturer is out of a component, understand what you can replace well before you start the project. Managing this is key. Many integrators are surprised daily with bad news of delivery.
3. Go Old School
Temporarily using mechanical solutions will still work for access control. Prep the doors for electronic locking devices, but use mechanical locks until the electronic components arrive.
4. Monitor specific serve times for the manufacturers you use most.
Many manufacturers have portals you can utilize to track current part serve times. Call your manufacturers rep to get the inside story.
5. Plan Ahead.
Understand the serve times and roll that into your Gant charts for your project. Understand that you will need to order al lot earlier than you normally would to meet the construction deadlines.
https://kentonbrothers.com/wp-content/uploads/2021/09/Microchip-featuredweb.jpg
600
800
David Strickland
https://kentonbrothers.com/wp-content/uploads/2022/04/125th-Anniversary-v1.png
David Strickland
2021-09-22 13:40:53
2021-09-22 13:59:08
All chips great and small. How microchips are holding the security industry hostage.