Security Technology Update – ISC WEST
By David Strickland, Vice President of Kenton Brothers
In April, Kenton Brothers team members attended the largest physical security convention in the Americas called ISC West. Our team, along with 30,000 other attendees explored over 1,000 exhibits, and over a hundred classes and workshops. Each year, ISC West allows us to continue our education, find out what is changing, and keep up to date on the latest technologies in the physical security space.
This year several technologies made impressive advances and we had a front row seat to their unveiling.

1. AI and Analytics
Artificial intelligence and analytics are making huge strides right now. The easiest way to explain this is to think of all the data that is gathered by video cameras and intrusion detection systems, then push it through a digital brain that looks for specific patterns. This brain actually learns and identifies patterns, and then triggers alarms or alerts that can be acted upon. This is called deep learning.
Briefcam, a company that is developing this capability rapidly, had a very impressive show and we're excited to bring this new technology to our customers.
Some of the benefits to this automated technology are:
Speeding up investigations
Helping to create safe and smart cities
Traffic Optimization
Loss Prevention
Consumer Analytics
Crowd Management.

2. Robots!
Yes Robots! They were everywhere at the show. The idea of robots small and large is to supplement your physical security patrolling options. Knightscope offers a 400 pound mobile robot that patrols like a security guard. It can also use analytics and sensors to test the environment for movement, gasses or other anomalies. Once detected, these alerts are passed on to a human in a central station that can interpret and act on these items in real time.

3. Drones and Anti Drone Technology
Drones have become common in daily life. You can't go to a public event and not see one in the air. Drones do a lot of good, but also present a real problem for secure spaces and crowds. This aerial platform is one of the largest issues faced by critical infrastructure and secure spaces such as power plants, water sources, prisons and entertainment venues.
Several companies have developed unique ways to secure spaces from drone intrusion. They are also developing new capabilities for law enforcement to use drones to help protect the general public. This has become such a large scale item that ISC West created its own portion of the convention called the Unmanned Security and Safety Expo.

4. New technologies for legacy systems
One of the best things about Kenton Brothers is our legacy of locksmithing. It has been our foundation since 1897, so we've learned a few things along the way. One of them is that an organized key system is an effective key system. Tracking who has them and when they're issued and returned is pivotal to the security of a building. We're happy to report that several companies are still investing in updating these key tracking systems and developing integrations with access control software platforms like S2.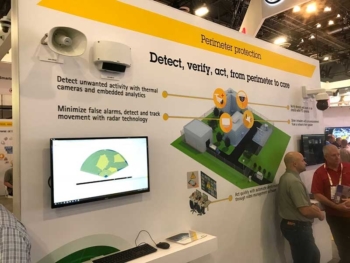 5. Radar!
Yes Radar! New federal regulations in critical infrastructure protection require an almost 100% threat detection capability. There is no acceptable level of failure to detect intrusion into a system that could affect thousands or millions of people. One of our strongest partners, Axis Communications, introduced their new radar system that works in conjunction with video analytics and thermal cameras to deliver near perfect perimeter detection capabilities. We're very excited to see this technology perfected and offered on this scale.
All in all, the 2018 ISC West Security Conference was very beneficial. We look forward to helping our customers take advantage of these new technologies for protecting their people, property and possessions.
https://kentonbrothers.com/wp-content/uploads/2018/05/Kenton-Brothers_ISC-West-01web.jpg
437
800
David Strickland
https://kentonbrothers.com/wp-content/uploads/2020/08/2020-KB-logo.png
David Strickland
2018-05-30 06:00:41
2018-08-27 14:24:22
Security Technology Update – ISC WEST