The "Butcher Paper Review"
By David Strickland, Chief Operating Officer of Kenton Brothers
Kenton Brothers Inc. Core Values: Continuous learning & Innovation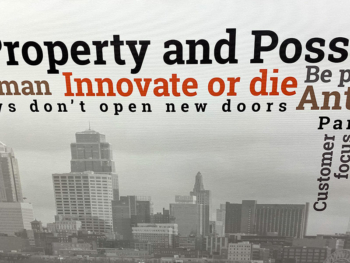 At Kenton Brothers, we are always striving to be better. To give better service. To have better communication. To always work toward the next level. It's one of our core values, it's in our DNA. We have a saying here… Innovate or Die.
The Butcher Paper Review
The success of our company through 123 years is because we are constantly willing to ask the tough question… Where are we failing? The Butcher Paper Review is a very important part of this process.
You may have read something similar to this previously. Many people call it a brown paper process review. Normally, you start with a standard process or procedure, and then look for ways to make it more efficient by visually mapping it on a long piece of brown paper. The mapping is done by all the team members in a department. Why? So that everyone has a say, and some buy in on the improvements that happen during the exercise. This is a very powerful tool for many businesses. And at Kenton Brothers, like many things, we've put our own spin on it.
When we conduct a 'Butcher Paper Review" we use long rolls of butcher paper. Much like a butcher – we immediately "Cut out" everything we historically know and hold on to. We literally throw it all away and ask the question: How should it work?
We don't look at it as an exercise for creating the most efficient workflow – we look at it as creating the best experience – for our customer.
We believe that it all starts and ends with the customer.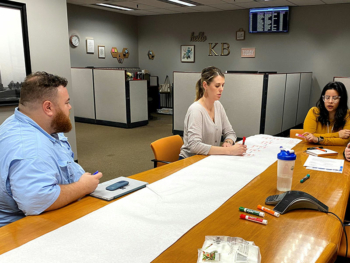 If something interferes with delivering a remarkable experience to our customers – we have to get rid of it or "cut it out". Granted, many of our practices enter back onto the butcher paper as they're good procedures and help us provide a remarkable experience. However, inevitably in every session, a procedure or policy will be dutifully challenged. This brings me to the next key point:
There are no titles in the room.  
One of the best rules about the butcher paper review is that there are no titles in the room. The goal is to create trust with team members to communicate honestly and transparently. This will take some time and repetition, but once the gates open – watch out!
True innovation comes from the ideas and insights of those doing the job every day. These ideas ring of truth as soon as they are spoken.  
In a recent butcher paper review, KB technicians brought forward a communication issue that was affecting our customers negatively. We were able to solve the problem in just a few minutes. The moment a technician spoke of it – everyone agreed it was truthful and began solving it creatively. By the end of the meeting, a decision was made to move in a different direction by creating a more in depth communication policy.
There were two wins in that moment. 
The customer will no longer feel the stress or friction of the blind mistake we were making.
The technicians just got a win – and now understand how empowered they are to affect company procedure and customer satisfaction.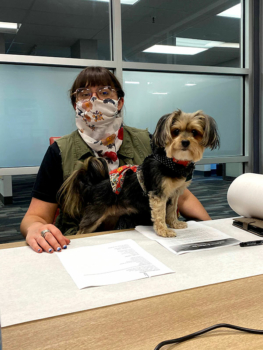 At Kenton Brothers Systems for Security, we conduct these butcher paper reviews once a year in every department. These meetings can continue weekly for up to 6 weeks depending on how many follow-ups and deliverables are necessary.
At any time, any member of the team can call for a butcher paper review. This leads to the next important lesson.  
The leaders in each department must feel comfortable putting aside their ego.
Having true customer focus means that the customer is the boss. Again, the team members closest to the customer have the best perspective. Allow them to share and to challenge what you think you know to be true.
Finally, I wanted to share that we've seen a transformation in morale and engagement since challenging ourselves with the butcher paper reviews. The organization has greater alignment. All  layers of the organization have a clearer understanding of what's most important – Remarkable Customer Service.
Tips for a great "Butcher paper review"
Leave everything you know at the door
There are no titles in the room
It begins and ends with the customer
If it interferes with delivering a remarkable experience, "Cut it out"
Every department does it at least yearly
The best ideas come from those that do the job every day
https://kentonbrothers.com/wp-content/uploads/2021/02/Kenton-Brothers_Butcher-Paper-Review-03.jpg
600
800
David Strickland
https://kentonbrothers.com/wp-content/uploads/2022/04/125th-Anniversary-v1.png
David Strickland
2021-03-03 06:00:07
2021-06-21 16:21:41
The "Butcher Paper Review"