The KB Kulture Club is one of our secret ingredients.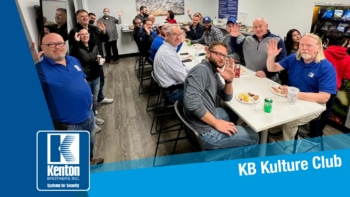 By David Strickland, Vice President of Kenton Brothers
The KB Kulture Club is a group of KB team members from different roles and backgrounds. They discuss opportunities and obstacles for our staff and company and then offer suggestions for celebration and change. The goals of the club are challenging… and the Kulture Club has done an amazing job delivering!
KB Kulture Club Goals
Increase Team Member Engagement
Reduce Turnover
Increase Creativity and Innovation
Improve Customer Experience and Satisfaction
Improve Morale
Recruit Great People
Encourage Diversity
Help New Hires Get Up To Speed (Onboarding)
One of the best things about the KB Kulture Club is the diversity of the employees. We have technicians, operational staff, sales professionals as well as managers and executive representation.
Kulture Club Rules
There are no titles in the room and everyone must feel free and safe to openly challenge tough topics.
This environment leads to great discussion and innovative solutions. The work done by the Kulture Club has also led to some great paradigm shifts in perceptions for everyone.
We asked Alana Hanly, one of our club members, what is her favorite part of the club? "I think I enjoy the communication with all of the different people involved. Listening to my coworkers from different teams gives me a new and broader perspective on the things we discuss."
In 2022, the Kulture Club made a big impact.
In 2022, the Kulture Club influenced everything from getting a vending machine in our breakroom to the establishment of a Health Savings Account option being offered as a part of our benefits package.
They highlighted our need to praise the everyday heros in the company as well as help recognize those that go above and beyond. They also created a group of awards and celebrations for the best team members at KB. The awards and celebrations were voted on by their peers and truly had a big impact. The awards represented every facet of the company.
Employee Engagement Matters
According to a 2022 Gallup report, a dismally low 32% of employees in the United States feel engaged with their work. This means that 68% of the team members in an organization no longer feel a part of the team. "The engagement elements that declined the most from early 2021 to 2022 were employees' level of agreement that they have clear expectations, the right materials and equipment, the opportunity to do what they do best every day, and a connection to the mission or purpose of their organization".
What's worse is that the actively disengaged rose to 16% in 2022. Actively disengaged employees are disgruntled and disloyal and will actively work against company goals.
A company's culture is the manifestation of the employees doing the work every day. How they talk about their work, their teammates and their leadership. The Kenton Brothers Kulture Club did a great job changing and improving the engagement of our team members in 2022! We've seen the team members buy in to the monthly get togethers, contribute to innovation and dedicate themselves to stronger customer relationships. It's exciting to watch and to see the impact they are having.
Congratulations on a great 2022 KB Kulture Club. We can't wait to see what you do in 2023!
https://kentonbrothers.com/wp-content/uploads/2022/12/KB-Kutlure-Club-Featured.jpg
1080
1920
David Strickland
https://kentonbrothers.com/wp-content/uploads/2022/04/125th-Anniversary-v1.png
David Strickland
2023-01-04 06:00:00
2022-12-28 14:19:18
The KB Kulture Club is one of our secret ingredients.