Thankful for My 3 Sons. The newest is the biggest handful.
By Ryan Kaullen, Field Services Manager at Kenton Brothers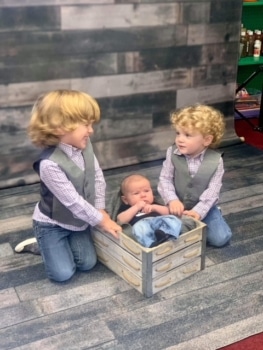 I always knew I wanted to be a father, and I've been blessed with three healthy and beautiful boys. Thanksgiving is right around the corner, and I thought it would be a good opportunity to share with you how thankful I am for my family.
I had very involved and supportive parents growing up. My parents were at all my sporting events, they came to all my school functions and we traveled all over the country and the Caribbean together. My father and I are extremely close because of our love for the outdoors and hunting. I knew how much my parents being present and involved in my childhood helped me. I knew that was the same model I want to provide for my family.
Wade, Clayton and Finnick
I first became a father on November 17th, 2017 at 1:06am to a beautiful & healthy baby boy who my wife and I named Wade. A little over 2 years later on November 20th, 2019 my wife gave birth to our next little boy named Clayton and then on September 6th, 2021 we gave birth to our third and yes you guessed it little boy named Finnick.
When Wade was born, I was working for a different company than Kenton Brothers. That company was 45 mins away from home (with perfect traffic) and let me tell you the traffic was never perfect. I also traveled with the company 5-10 days a month. I knew I had to make a change to find the right work life balance.
Finding Balance at Kenton Brothers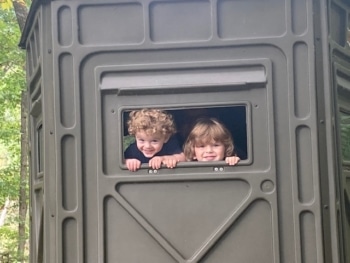 I began my career at Kenton Brothers in August of 2018 and knew immediately I had found the work life balance I was looking for. Of course Kenton Brothers expects their employees to work hard, but when you need to take time for your family, you can. When I interviewed originally with Dave and Gina, they made it very clear that just like work, my family is also a priority for them. It's all about being a good human in and out of work and taking care of family falls into that category perfectly.
Some of my favorite things to do with my sons are taking them to parks to play, up to our farm to ride on the side by side, four-wheelers, and just being outside together. I think it's extremely important, especially in today's day and age to get kids outside, away from electronics, and allow them to be connected with the outdoors and not just a TV.  Sometimes I feel as if my wife and I are herding cats but we wouldn't have it any other way.
I find myself very fortunate and thankful to have three wonderful sons, a supporting wife and family, and a supportive work family. I hope that you are able to enjoy time with your family and loved ones this Thanksgiving holiday season!
https://kentonbrothers.com/wp-content/uploads/2021/11/My-3-Sons-1featured.jpg
328
480
Ryan Kaullen
https://kentonbrothers.com/wp-content/uploads/2022/04/125th-Anniversary-v1.png
Ryan Kaullen
2021-11-24 06:00:03
2021-11-01 15:50:54
Thankful for My 3 Sons. The newest is the biggest handful.