Start Strong, Finish Strong – 1 Customer, 9 Schools, 5 Different General Contractors
By Ryan Kaullen, Field Services Manager at Kenton Brothers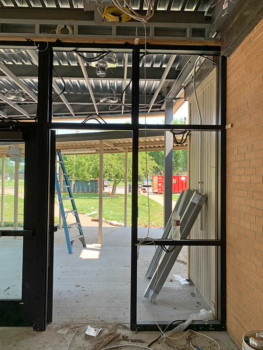 Early May of 2021, Kenton Brothers was notified that we had won a commercial security project for a local school district that included 9 different school remodels with access control additions to each of the remodels. Included in the project were IP based intercoms, door release functions, web relay interfaces, and ADA integrations.
Kip Phillips was assigned as the Project Manager and I knew right away he had to Start Strong and Finish Strong because of several unique scenarios within the project.
Some of these potential challenges included:
Kenton Brothers was contracted directly with the school district and not the General Contractors
There were 9 different timelines that may or may not align depending on other trades
There were part logistics issues due to supply chain problems
Coordination with the General Contractors to ensure we installed our equipment at the right time
Kip knew that being properly prepared would allow him to maintain control of the project and be able to ensure its timely completion.
Relationship is Crucial in Complicated Projects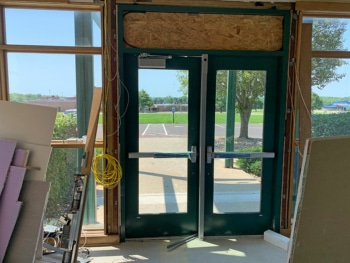 Kenton Brothers prior relationship with the school district allowed us to not only win the job but also design exactly what the customer was needing.  Coordination began from there to align the timeline put out by the General Contractors to match what we were installing. Due to COVID, getting the parts we were contracted for took longer than normal. But there were also wait times on the parts that were needed from other trades to complete the projects.
Kip was in constant communication with everyone involved. Checking to see when parts were going to be delivered, getting them in our techs hands, and making sure the doors were in and ready for us to install the parts.
Timelines were a huge coordination component of this project. As doors and frames arrived, we had to get wiring in place so we wouldn't get sealed out of physical places we needed to be. Sometimes, the notice that a door and frame had arrived was communicated to us the same day it was going to be installed. (Labor nightmare.) Kip had to shuffle a tech (or techs) off of one job and race over to the school district to make sure wiring was put into place quickly and correctly.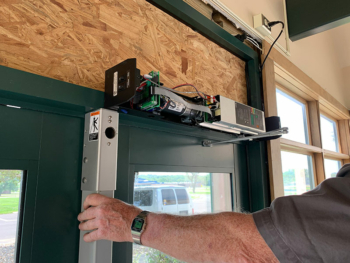 A lot of what Kenton Brothers had to do was contingent on other trades getting their work in place before we could do our work. This reality put us in a major time crunch to complete everything by the start of the school year.
Doing the Work
Kip was able to manage hundreds and hundreds of man hours spanning just a few weeks. He was able to keep everything in perspective by scheduling and organizing the techs efficiently. They knew what their tasks were each day, and they received the parts they needed.
Kip regularly attended weekly construction meetings to stay on top of everything and he provided feedback to the General Contractors, always being mindful of our deadlines. Being in constant communication with the techs, the school district, and the GCs allowed him to know where the projects stood at all times.
It helped that Kenton Brothers also had senior techs on the project… this allowed for good feedback back to Kip and our customer. The communication, the coordination, the anticipation of needs, and the strong project management allowed this project to finish successfully and on time. Our customer is happy!
This project properly aligned with the #KBWay of protecting people, property, and possessions. And we love the satisfaction of completing a project that will help the school district protect the kids and staff that work and learn in their buildings every day.
https://kentonbrothers.com/wp-content/uploads/2021/11/Start-Strong-Featured.jpg
600
800
Ryan Kaullen
https://kentonbrothers.com/wp-content/uploads/2022/04/125th-Anniversary-v1.png
Ryan Kaullen
2021-11-17 06:00:09
2021-11-05 12:23:52
Start Strong, Finish Strong – 1 Customer, 9 Schools, 5 Different General Contractors