By Will Zurcher, Installation Manager at Kenton Brothers talking about mobile access for our Field Service Units.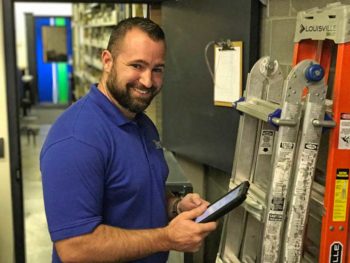 As a company that's been operating for over a century, Kenton Brothers is accustomed to adapting to the times. This is one of the core reasons the company is still growing. Most recently, we decided to implement a new software system that would streamline our processes from proposal to invoicing. There are enough obstacles to overcome with just that goal in mind. But when you take into account that nearly half our employees operate on the go every day, it was important to find a flexible solution.
We decided to implement field service units (FSUs) for our mobile employees. This allows them to remotely access the same system the office personnel use daily. Now all employees and departments at Kenton Brothers communicate fluidly through one system.
There are many benefits to a system like this, but the FSU devices are a critical point of failure. We had to choose devices with a track record of little to no downtime. The Apple iPad Mini was the answer. It's a small device that's powerful enough to operate the software. It has a reputation for quality, functionality, and great support. And the cellular versions allow our employees to have a live connection to the system.
We've seen great improvements in communication since implementing the Field Service Units.

Technicians can clock in and out of jobs. Their time records are more accurate for each job, improving the invoicing process.
Technicians can view documents specific to each job on demand. Previously, they had to print them off.
Technicians can type notes under their job. This is important to document the work they performed, customer comments or materials needed in the event of a return trip. In the past, this would have been written down on paper and entered by someone back at the office.
Technicians can read notes left from previous visits instead of calling other technicians.
Technicians can have customers electronically sign off on completion of their work.
The question still remains… Is it worth the expense for companies to try and keep up with the speed of technology?
There are many people that wish there was any easy yes or no answer to that question. Only time will tell. But our experience so far proves that better communication will improve our customer experience and satisfaction.
https://kentonbrothers.com/wp-content/uploads/2017/09/Kenton-Brothers_Field-Service-Units.jpg
600
800
Will Zurcher
https://kentonbrothers.com/wp-content/uploads/2017/10/Kenton-Brothers-Logo.jpg
Will Zurcher
2017-10-05 15:26:34
2017-09-25 15:36:40
Mobile Access for our Field Service Units (FSUs)