By Gina Stuelke, CEO of Kenton Brothers
After 46 years at the corner of 18th and Baltimore, and two prior locations on Walnut since our founding in 1897, Kenton Brothers Systems for Security is moving to the East side! We're referring to the new location as KB Truman.
After a five year search for a new location, we finally found a location that meets all of our needs. 3401 East Truman Road in Kansas City, Missouri. Much like our experience of being a part of the transformation of the Crossroads District over a decade ago, we're now joining in the transformation of the Truman Road corridor.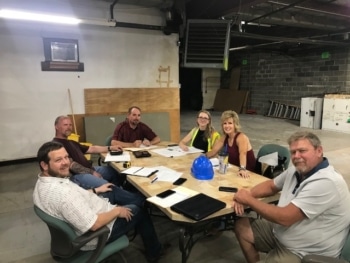 Our new location sits at the start of the Truman Community improvement district at Truman Road and Indiana streets. KB, along with many other local businesses, is excited about the future and the focus of bringing new companies to the area.
We had several requirements when we were searching for the new location.
First and foremost, it needed to be centrally located in the KC city limits to continue serving our long time contractual clients like the City of KCMO and Jackson County. It needed to have easy highway access for our clients. And we needed our fleet of service trucks to be able to easily get to our location from a major interstate.
We required plenty of room for our existing team and the current needs of our organization, which is much more technology focused. We also need plenty of room for growth and expansion. And one more important addition to the have-to-haves list: PARKING. One of the biggest struggles we've experienced at our current location in the Crossroads District is the lack of parking.
An Experienced Team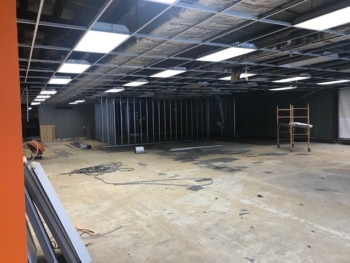 KB partnered with long-time HEMP friend Jay Tomlinson of Helix Architects to design our new headquarters and create an environment to showcase the security industry's state of the art technology. We selected Courtney Kounkel's Monarch Build commercial general contractor to handle the renovation and birth of the new space. The team at Country Club Bank provided their expertise and the financing to make the transition to the new building easier.
We can't wait to share more about KB Truman in the next couple of months. Things are coming together quickly and we can't wait to move into our new space at 3401 East Truman Road.
https://kentonbrothers.com/wp-content/uploads/2018/06/KB-Truman-Under-Construction-01.jpg
480
640
Gina Stuelke
https://kentonbrothers.com/wp-content/uploads/2017/10/Kenton-Brothers-Logo.jpg
Gina Stuelke
2018-06-27 13:13:01
2019-08-28 10:22:43
KB Truman – Kenton Brothers is moving to the East side.