By David Strickland, Vice President of Kenton Brothers
Kenton Brother Systems for Security may be headquartered in Kansas City, but our customers are located all over the country. Many of our customers have locations that are operational 24 hours a day, 7 days a week and could have needs for support outside traditional business hours.
As we've written about in previous stories, Kenton Brothers constantly asks itself and our customers, "How can we improve our service?" In this blog, we're going to focus on one such innovative and very popular way we're meeting our customer's needs.
In support of the Kenton Brothers core values of Service Quality, Dependability, Innovation and Customer Focus, we happily offer our customers several ways to meet the need for support on their schedule. Traditionally speaking, Kenton Brothers offers critical support 24 hours a day 7 days a week to our customers by having certified technicians on call. Traditional solutions are great. However, our customers demand innovative solutions to meet their ever-changing needs.
Convenience: We want what we want, when we want it, and how we want it.
Our customers love to learn from videos. We all go to YouTube to solve problems these days.
Recently, when I was faced with a slowly draining washing machine, I jumped on YouTube to find a solution to my problem. With a quick search, I was able to find a series of videos that helped me diagnose my problem and fix it without calling a technician. I felt like a champ for fixing the problem by myself, and saved money at the same time.
Kenton Brothers Training Video Library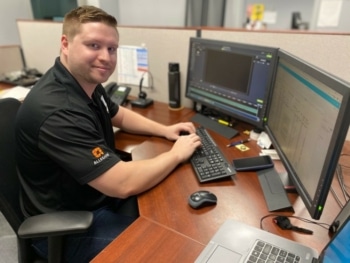 We're happy to offer the same joy and convenience to our customers by creating a video library they can use to search for common questions such as:
How to add or remove an authorized user.
Change a camera view on their video wall.
Diagnosing a fault or error in their system.
Kenton Brothers provides a complete library of these kinds of videos to support Access Control, IP Video Surveillance and Intrusion Detection Systems. These are all offered free of charge and are professionally recorded in house with our own factory certified technicians. Daniel Bouton handles this program for us and he has customers singing his praises.
Each month, our Remote Services Group creates a list of the most common questions they get from customers and technicians in the field. This list creates the video production order for the following month. What we're finding out is that our customers love the fact that they can access this resource on demand, on their schedule, and at their convenience 24/7.
Do you need help with commercial security for your people, property and possessions? Let's talk!
The Remote Services Group video library is another way that Kenton Brothers Systems for Security is creating innovative solutions for our customers.