What happens to your cell phone files after your passing?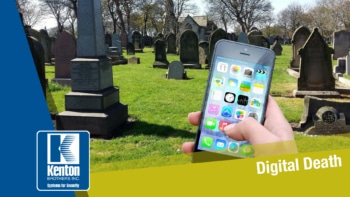 By Gina Stuelke, CEO of Kenton Brothers
I recently received an article from Creative Planning discussing a topic that I've never thought about before, and thought it would be worthwhile to pass on for others' benefit. As attached as we are to our cell phones…. no, we won't be taking them with us to the afterlife. So it's even more important to assign your legacy contact today!
If you handle the finances in your relationship, would your partner know whom to contact without you or your phone around?  How would a loved one get in touch with extended family members for purposes of planning your funeral? In order for friends or family members to be able to access your cell phone data after your passing, you'll first need to assign a legacy contact. Below you'll find instructions on how to set up a legacy contact for your iPhone.
How to Add a Legacy Contact on iPhone and iPad
Open Settings
Click on Apple ID
Open Password & Security
Tap on Legacy Contact
Click Add Legacy Contact
Again click on Add Legacy Contact, once the disclaimer screen pops up
Authenticate the process using Face ID, Touch ID, or password
Users can choose a family member if they have enabled Family Sharing. Otherwise, they can select Someone Elsefrom their contact list
Once the Legacy Contact is selected, tap Next
Click Continue on the screen that describes how the feature works
Users then have the option to choose how they would want to share the Access Key. It can either be shared through iMessage or a copy can be printed
Once the sharing method is selected, the selected contact is set as the Legacy Contact
Users can have multiple Legacy Contacts, so the process can be repeated for other Legacy Contacts.
This is one of those things that isn't fun to think about, but important to take care of so that the people who survive your passing have an easier time when trying to get your affairs in order.
https://kentonbrothers.com/wp-content/uploads/2023/05/Digital-Death-Featured-web.jpg
1080
1920
Gina Stuelke
https://kentonbrothers.com/wp-content/uploads/2022/04/125th-Anniversary-v1.png
Gina Stuelke
2023-05-31 06:00:10
2023-05-31 23:58:49
What happens to your cell phone files after your passing?