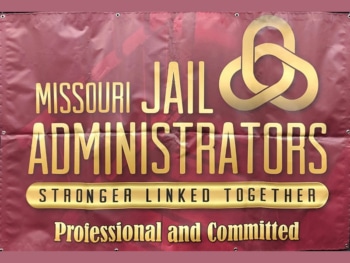 By Gina Stuelke, CEO of Kenton Brothers
Missouri Sheriffs and Jail administrators came together in October at the Margaritaville Lake Resort at the Lake of the Ozarks for 3 days of business meetings, training and camaraderie. These folks are passionate about the important work of maintaining and securing the county detention centers around the state.
Part of their learning included exposure to vendors and exhibitors of tools, products and services to help them do their jobs successfully. Kenton Brothers and a couple our key partners, Gallagher Security (Command Center-commercial access control systems) and Axis Communications (commercial video surveillance cameras and body worn cameras) all partnered to show off the latest in integrated security technologies specifically for jails.
Our solutions for prison and jail security systems include access control of the facility and jail doors, video surveillance, intercoms, lighting control, even integration with HVAC and water control. Everything can be tied into one platform to make life easier for the Correction Officers to control the facility from a single interface. We recently completed this same type of solution for Allen County, Kansas and Bremer County, Iowa.
Gina Stuelke with Kenton Brothers and Daniel Leland with Gallagher Security
Axis Communications Body worn cameras
Steven Volkmer Dave Nicholl
Challenge Coins
We learned that the people affiliated with law enforcement and military are excited about Challenge Coins as collectibles. A challenge coin is a small coin or medallion, bearing an organization's insignia or emblem and carried by the organization's members. Traditionally, they might be given to prove membership when challenged and to enhance morale. Even though they were created to acknowledge the service of military staff, they are now used in civilian life for all kinds of recruitment efforts.
We created our own KB challenge coin and shared them at the event. They turned out great!
Contact the problemsolvers@kentonbrothers.com as your experts for any aspect of law enforcement security technology and to get your challenge coin!