Remember when security just meant a good set of keys?
By Ryan Kaullen, Field Services Manager at Kenton Brothers
Kenton Brothers opened its commercial locksmith doors in Kansas City in 1897 by two brothers William and Leon Kenton, and is still located in the heart of Kansas City to this day.  From the beginning, the mission has been to protect people, property, and possessions but locksmithing has changed over the past 120+ years! Today, keys look very different than the skeleton keys of the past. We now have electronic machines that cut keys, and we even have software programs that will keep your master key system organized and in check.
But what else has changed?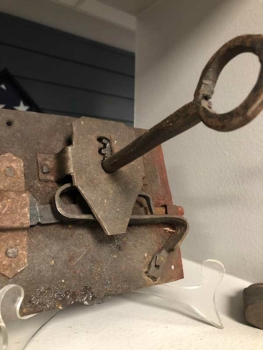 As most people remember when growing up, it was not uncommon to see school janitors, maintenance employees, or even property managers walking around with huge rings that looked like they had 250 keys on them and weighed 50lbs. The days of someone carrying around that many keys are coming to a close as keying systems have advanced, access control is becoming ever more prevalent, and keying software has allowed keying systems to be more easily managed. Things change (and a lot of times for the better.) Leon and William Kenton even knew that back in the early 1900's. They knew that they had to take care of the customer, innovate, offer more than their competitor, and provide remarkable service to continue to grow.
So how does this information benefit you or the company you work for?
With more advanced methods of key control, by knowing who has what keys, by knowing how to properly protect your people, property, and possessions, and by granting access to certain areas, you can cut down costs, reduce the number of keys people have and benefit from a mechanical security system that compliments your access control system. And an advanced method of key control can be its own mechanical access control system.
Even a century ago, William and Leon knew that a good master key system could be designed to incorporate security and convenience for the users. How? By gathering important information at the preliminary 'keying meeting' where the details to design the master key system are discussed. One tip for a successful design is to incorporate the company's organizational layout (users of the keys) with the building layout of where the doors are located. It's also important to gather information about future changes or potential growth anticipated. A good master key system makes it easy for those that need access to multiple rooms. It also increases security by only granting access to needed areas and not the entire floor.
We're here to educate.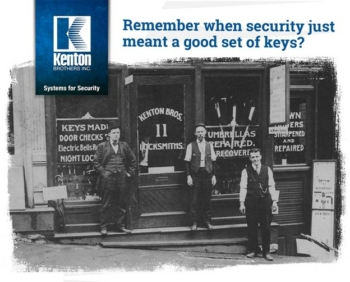 From the beginning, Kenton Brothers has worked to educate our customers, help understand their needs, and promote all the offerings in the market place that will properly secure their facilities.  Kenton Brothers may have started as a locksmith who also fixed umbrellas and sharpened mower blades to make ends meet. But as the decades have passed, we've developed into more than just a large and growing commercial locksmith in Kansas City. Our other offerings include Access Control, IP Video, Intrusion Detection, and more. These systems all work together to provide a layered approach for securing facilities.
Let the Kenton Brothers team of dedicated employees show you how we can protect your people, property, and possessions and keep you All Secure!
https://kentonbrothers.com/wp-content/uploads/2021/10/Keying-Through-Time.jpg
502
624
Ryan Kaullen
https://kentonbrothers.com/wp-content/uploads/2022/04/125th-Anniversary-v1.png
Ryan Kaullen
2021-10-13 06:00:58
2021-10-08 12:39:55
Remember when security just meant a good set of keys?