Could a Robot Keep Your Warehouse Safe? And Save You Money?
Whitepaper: Automating Warehouse Security
Admit it. No matter how old you are, you've been waiting to have your very own robot someday. A friendly one. One who is helpful and talks like humans do. One who looks out for you and, when necessary, saves the day. And, looks super cool.
Cobalt Robotics can do just that. These robots are designed to have total situational awareness, be proactive, and resolve security events immediately and effectively. Cobalt's indoor "robots as a service," fills a critical void within physical security solutions and supplements current technology and guard programs.
Security Robots Supplement Security Guards & Services
Physical security is necessary to protect your facility and your employees. However, high turnover rates and the expense of adequate security services are challenging. Around-the-clock security coverage and real-time response is difficult to sustain, which leaves a security program particularly at-risk after hours, such as on nights, weekends, and holidays.
How the Cobalt Robot Works
Cobalt's robots combine the reliability of machines and the flexibility of humans. The Cobalt robot has super-human detection systems to help manage temperature signatures, osha violations, spillage, intrusion and more. In addition, the cobalt robot is connected to a 24-hr security operations center (SOC) whenever an incident or anomoly is detected. This unique combination of robotic and human features provides complete situational awareness and real-time response for warehouse security teams.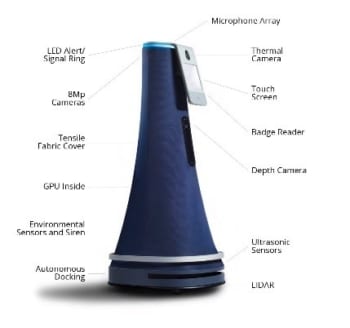 The Cobalt robot is both a highly complex system of features and a practical, working solution for ongoing security pain-points. Here are the four examples of how it works:
Sensing and identifying:
The Cobalt robot has over 60 extremely capable sensors including day-night cameras, 360-degree cameras, thermal cameras, depth cameras, LIDAR, and badge reader. Using cutting-edge algorithms such as machine learning, semantic mapping, and novelty detection, the robot can independently identify and flag security-relevant anomalies like people, sounds, motion, doors and windows, missing assets, and other risks.
Augmenting the value of existing security:
The combination of its sensors and algorithms makes it such that a single robot is comparable to an extremely competent guard with super-human capabilities and omnipresent situational awareness across an entire organization. These robots are meant to keep offices secure by patrolling, uncovering intruders, and identifying safety concerns (such as fire hazards or leaks/spills) or anything out of the ordinary.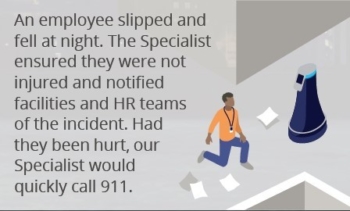 Human-in-the-loop:
Each robot has a tablet for communication between our remote Specialists and the people on-site. Employees can tap the tablet screen to call a Specialist for guidance and reassurance, while Specialists can call in to deter an intruder, check on an employee, or address hazards.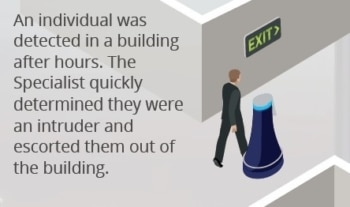 Human-centered design:
The robot stands at 5'1", a standard cubicle height, allowing it to perform in a range of settings. Fabric was chosen to cover the robot's technology to help convey a soft and friendly appearance, encouraging person-robot interactions.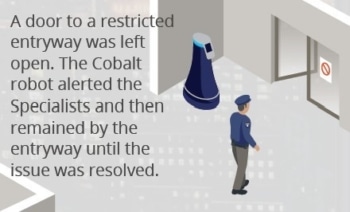 What's the Human Specialist's Role?
When the robot detects an anomaly, a highly trained, intelligent, and empathetic remote Robot Specialist is alerted. The Specialist determines whether something is amiss and the appropriate action to take or, if nothing is wrong, uses the scenario to teach the robot.
Cobalt's service hours depend on the building type. In office spaces, Cobalt is typically active between 8 PM – 6 AM on weekdays, and 24 hours on weekends and holidays. For low traffic areas such as warehouses and manufacturing sites, Cobalt's services are available 24/7.
Here are a few more examples of what Cobalt robots do for warehouse security:
Detect environmental anomalies like heat, humidity, CO and CO2 levels, and smoke
Maintain worksite and personnel compliance with OSHA regulations and safety protocols
Discover and mitigate risks from potentially damaging leaks and spills
Receive immediate notifications of unsafe conditions or dangerous situations
Know Exactly What Your Security Service is Doing
Ever wonder who guards the guards? With Cobalt, you get consistency, peace of mind and valuable data showing the effectiveness of your security solutions.
Every week, Cobalt's customers receive a report including noteworthy events, patrol statistics, specific tasks completed (i.e., door checks, sensitive asset location verification, etc.), and much more. Quarterly updates contain valuable analysis with insights into trends and potential vulnerabilities.
Indoor security robots such as Cobalt are already operating in a variety of facilities and industries. Discover how Cobalt can increase security, lower costs, and reduce risk for your facilities and employees.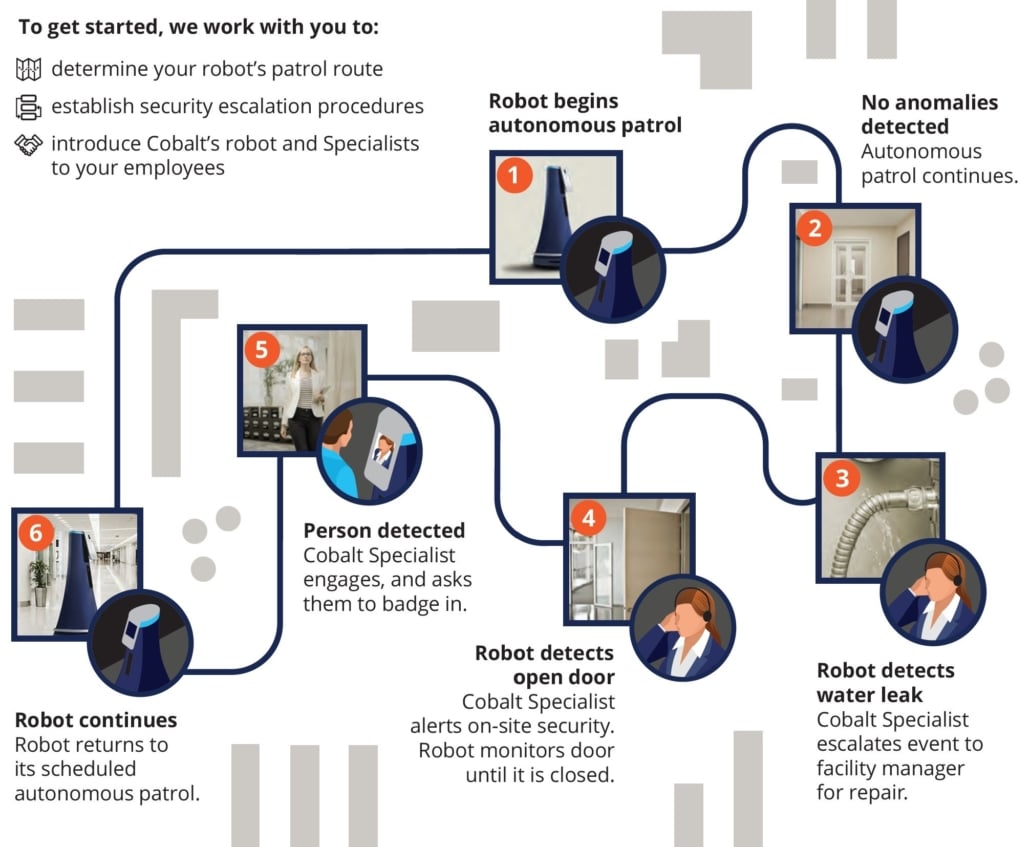 https://kentonbrothers.com/wp-content/uploads/2019/11/robot.jpg
402
429
Kenton Brothers
https://kentonbrothers.com/wp-content/uploads/2022/04/125th-Anniversary-v1.png
Kenton Brothers
2019-12-18 06:00:53
2020-02-12 21:23:59
Could a Robot Keep Your Warehouse Safe? And Save You Money?