Solving Their Pain: Warehouse Security Project in Wichita, KS
By Neal Bellamy, IT Director and Brinton Hallum, Project Manager at Kenton Brothers.

The Pain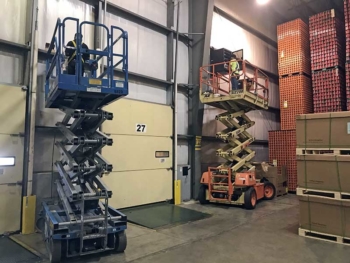 A large warehouse customer of ours was in a lot of pain when it came to their various security systems.
The video management system was consistently crashing with cameras bouncing offline. On top of that, the user interface was not very user-friendly.
The wires for all the systems were a mess, making maintenance hard.
The Access Control system was in bad shape. Nests of exposed wires that weren't labeled. Controllers accessible to anyone and often locked by a broken nail slipped through an eyelet.
The intrusion system had frequent false alarms and sensors that weren't working.
None of these items were up to KB Standards.
Our customer takes a lot of pride in their business, that includes the security of their people, products and property. Their culture is "Promises Kept". We promised them an enterprise system that exceeds their expectations and that's exactly what we delivered.
The Plan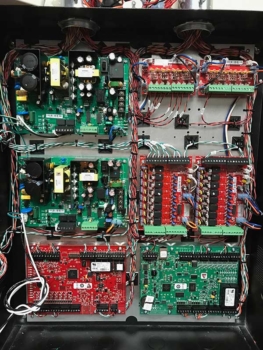 To ease their pain on Video Surveillance and Access Control, we brought in Avigilon.
Working directly with the manufacturer, we were able to design a system that will meet the needs of the customer and alleviate their pain. We also provided additional features such as License Plate recognition, Appearance Search and Learning Analytics to eliminate false motion triggers from blinking lights.
Avigilon Control Center directly integrates into Avigilon Access Control Manager, providing additional information for the video system. This means that they can search for video based on access control events like access granted/denied, door left open or door forced.
There are many benefits for a combined Access and Video system worthy of a blog post all by itself.
For the Intrusion/Fire system, we designed a Bosch Fire/Burg B9512G. This is the Cadillac of Fire/Burg and provides all the bells and whistles. We utilized a touch screen keypad to allow for visibility of Areas and custom triggers for Fire/Medical/Tornado. We tested each and every point, and adjusted so the customer doesn't have to worry about false alarms.
The Team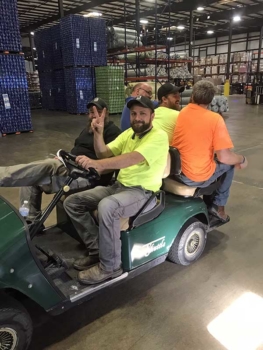 The timeline for the installation was short, so we used several guys from the Kansas City office to get the job done.
Being away from home is bittersweet; there's always places to explore, but being cooped up in a hotel room is trying. This time we did something different. We rented an Airbnb for our guys. Everyone had their own room, and they got to cook real food and have some bonding time together.
The guys worked hard and very well together. Each has their own specialized knowledge and skill set. This allowed them to focus on their own areas of expertise, but also help each other grow and learn.
Jeremy's great knowledge of door hardware and all things conduit allowed him to create a camera mount that would keep the cameras level, even though the rafters weren't level.
Tony's knowledge of all things intrusion helped him troubleshoot the communication issues that popped up at the worst time.
Neeley's great at the programming side and he rocked it out, but he also got to learn how to wire up the panels for the first or second time expanding on his capabilities.
This was Meshack's first adventure on a large installation; he got a trial by fire and did a great job.
Kenton Brothers' greatest strength is our team. This is one of many instances where our team pulled together and exceeded the customer's expectations.
https://kentonbrothers.com/wp-content/uploads/2019/06/Wichita-Project-Spotlight-03featured.jpg
450
600
Kenton Brothers
https://kentonbrothers.com/wp-content/uploads/2022/04/125th-Anniversary-v1.png
Kenton Brothers
2019-07-17 06:00:02
2020-03-22 15:59:15
Solving Their Pain: Warehouse Security Project in Wichita, KS