Thelma's Kitchen – the first 'donate what you can' café in Kansas City.
By Gina Stuelke, CEO of Kenton Brothers

Part of the KB team went on a field trip this week to visit Father Justin Mathews, Executive Director of Reconciliation Services at 31st and Troost.
Reconciliation Services
Since Kenton Brothers' move from the Crossroads to the East side of Kansas City, we've been seeking an organization to partner with to develop our community relationships. We found Reconciliation Services to be an incredible organization doing powerful work in the heart of Kansas City. We learned about the racial and economic division that Troost Avenue symbolizes in our city's history.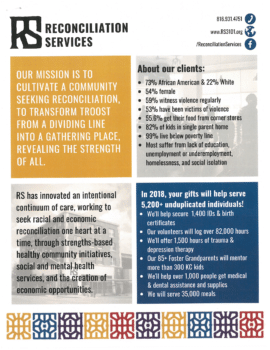 According to Fr. Justin, in order to be the city we aspire to be, we have to get Troost right. It's going to take more than poverty programs to heal this division in Kansas City. Fr. Justin is adamant, "It's not enough to address the blight of the buildings only. We must also address the blight of the heart. It's going to take true reconciliation."
Their website reports that Kansas City is one of the top five most economically and racially segregated cities in America according to a recent study. In Kansas City, 23% of African Americans live below the poverty line compared to only 6% of whites. While these disparities have been persistent, they need not be permanent.
Last year, RS staff and hundreds of volunteers worked together to build relationships and care for 5,150 men, women, and children living in poverty, mostly on the east side of our city. Since the 1980's Reconciliation Services' goal has been to transform Troost from a dividing line into a gathering place, a place of healing and comfort. A place where guests, volunteers, and staff can come and find their strength.
Thelma's Kitchen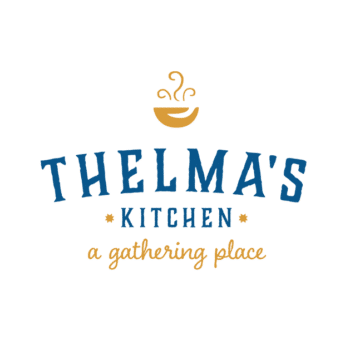 We enjoyed lunch at Thelma's Kitchen – the first 'donate what you can' café in Kansas City. Thelma's Kitchen was created to meet the need for affordable, high quality, nutritious food access and to bring people together as a community gathering place. Thelma's Kitchen is an alternative lunch spot for every category of people, working, non-working, students, and families to enjoy a great meal in a caring atmosphere and donate whatever payment your heart directs you.
I'll be returning to Thelma's to host some of my business lunches – and in lieu of paying a national chain for a lunch meal, I'll donate that money to Thelma's Kitchen, a community organization to help be a part of the change for good in our neighborhood. What a great concept!
There are a variety of ways, we as business leaders can collaborate with Reconciliation Services to affect positive change in Kansas City. In addition, they offer an entire continuum of care including social services, mental health services and economic building services to build social and financial community capital.
I encourage you to check them out, reach out to Fr. Justin and schedule a visit and a meal at Thelma's Kitchen—it's good for the soul. #kbway #donatewhatyoucan
https://kentonbrothers.com/wp-content/uploads/2019/01/Restoration-Services-01.png
629
629
Gina Stuelke
https://kentonbrothers.com/wp-content/uploads/2020/08/2020-KB-logo.png
Gina Stuelke
2019-02-13 06:00:27
2019-08-28 10:19:51
Thelma's Kitchen – the first 'donate what you can' café in Kansas City.