Depending on the industry, some worksites are safer than others. If your worksite is considered high risk for injury, then you probably struggle with finding, much less implementing, tools that provide the level of ongoing visibility that allows for swift and effective action. And, even if you have tools and systems in place, it still can be a struggle to catch every risk, everywhere, every time.
Enter Cobalt Robotics
That is why high-risk injury worksite leaders are embracing Cobalt Robotics to gain full situational awareness of their employees and facilities. Unlike distant cameras and fallible humans, Cobalt's autonomous robots help ensure compliance in safety equipment and protocols so issues can be handled as they arise. These robots are the tool modern organizations need to enhance their safety operations.
Of course, robots cannot interact and intervene on the human level. So, Cobalt pairs its onsite robots with a remote Specialist Command Center staffed by people who are trained in your operations, safety rules/regulations and mandated protocols. Together, you gain unmatched coverage of your employees and single or multiple facilities to ensure action and accountability in real time. In other words, Cobalt protects your employees and worksites, allowing you to focus on other important matters.
Cobalt Robots in Real-World Situations
The following are just a few safety scenarios in which Cobalt robots create safer worksites.
Spill in Aisle 1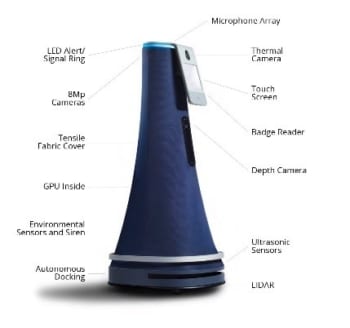 As you and your employees know, spills are dangerous and can be difficult to detect on certain surfaces, especially if a liquid is clear. Cobalt's robots autonomously roam your facility and can detect spills and alert for a cleanup.
And, should an employee slip and fall, the robot informs a specialist from Cobalt's Command Center. The specialist assesses the employee's injury and notifies the appropriate person for a report or 911.
Missing Safety Gear
The more safety gear required, the better the chance that a key piece can be missed, putting the employee and company compliance at risk. Cobalt's robots stream stable, mobile video feeds for visibility of employees.
While a co-worker may not notice or call out missing safety gear or a supervisor is busy with other work, the robot can spot and remind an employee of what's missing.
Clear a Path
In many work sites, there are designated paths for forklifts, machinery and foot traffic. Imagine a stack of palettes obstructing a forklift path. Or a service worker leaving a ladder where they shouldn't. For the workers and site managers, going about their day-to-day duties, they might not notice these safety risks. But our robotic patrols are the best for detecting any anomaly and pairing it with human judgement to determine steps for resolution.
The Door is Ajar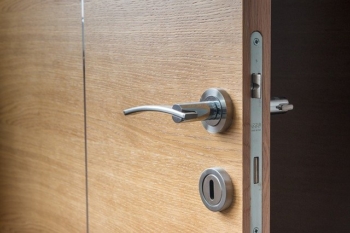 Entryways and doors to restricted areas can be purposely or accidentally left wide open, causing a number of risks.
A Cobalt robot can alert a Specialist and remain by the door until the issue is resolved to warn employees or restrict them from entering the area.
As an autonomous vehicle, the Cobalt robot patrols worksites along its designated route. If an employee asks for help or if it detects an anomaly, our Specialists can step in, pilot the robot, and interact with people through our video-enabled touchscreen.
Want to know more?
Robots such as Cobalt are already operating in a variety of industries to keep their worksites safer. Discover how Cobalt can reduce risk for your facilities and employees.
KCTV5 News Spot
Check out this news spot on the KCTV5 YouTube channel!
And here is the Kenton Brothers video about Cobalt Robotics
https://kentonbrothers.com/wp-content/uploads/2020/02/Annotation_Height.jpg
1000
1194
Kenton Brothers
https://kentonbrothers.com/wp-content/uploads/2022/04/125th-Anniversary-v1.png
Kenton Brothers
2020-02-27 06:00:07
2020-09-04 12:13:15
Create Safer Worksites with Automated Patrols