Words of Wisdom from William and Leon – Commercial Counter Q&A
By Justine King, Sales and Marketing Administrator at Kenton Brothers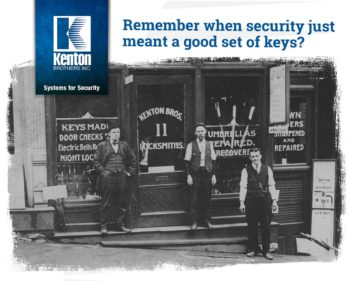 As a 124 year old company, Kenton Brothers Systems for Security has been the leading name in locksmithing and electronic security systems for the Midwest region. We remember where we started as locksmiths to know where we're going as a company. Here are some words of wisdom from our founding brothers, William and Leon:
Most Common Questions from Customers at the Commercial Counter:
Can you cut this rare style of key that I can't find anywhere?
Most customers walk in and ask if we can cut "this" key. Typically, they started at a mainstream supply store such as Lowe's. Here at Kenton Brothers, we stock enough keys that we'll be able to cut just about any key brought in.
Can this lock be fixed or do I need to purchase a new one?
Yes, most locks can be worked on and saved/restored. (Now, the question is if the lock is still the safest and most efficient way of protecting your business.)
What is the importance of choosing the correct keying system?
Depending on budget and goal of the system, we will be able to find a locking system that will solve your issues.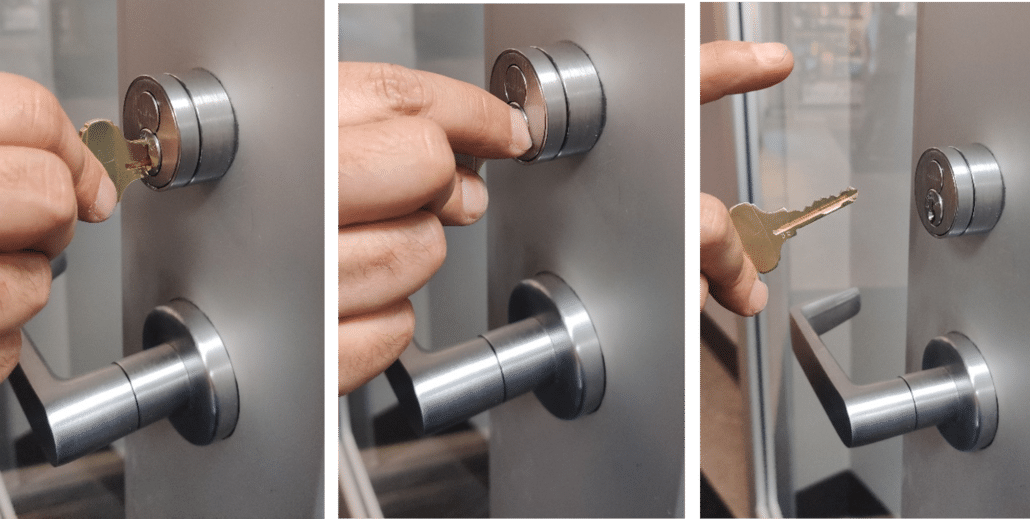 Tricks and Suggestions: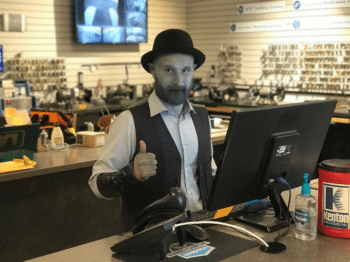 Do not use graphite for fixing locks: Many people find online sources that suggest adding graphite into a lock as a lubricant. Mortise locks used to have a chamber for the graphite to fall into, however, most cylinders no longer have this open chamber for the graphite to settle into. If graphite is added to these new mortise locks, it can cause build up in the cylinder and eventually create more damage to the lock over time.
Avoid SmartKey Kwikset Locks: The KB Commercial Counter suggests that customers stay away from SmartKey locks. They don't contain pins that one would need to master key the lock. These SmartKey locks contain plastic parts that don't have the longevity of metal parts and therefore are not as safe because they can be bypassed or broken more easily. Rather than these locks, KB recommends any Schlage electronic or mechanical locks for any style of property.
How to Remove a Jammed Key from the Lock: Keys often get stuck in a lock for numerous reasons. However, the most common reason is that the bezel nut or cam may be loose on the inside of the lock causing the lock to create a Chinese Finger Trap situation. In order to remove a key that has become stuck, it is best to use the index finger to push against the face of the cylinder while simultaneously pulling back on the key. It is important to bring the lock cylinder into a locksmith to tighten and adjust the malfunctioning bezel nut or cam.
Do you need help with commercial keying?
Our Commercial Counter helps customers create and manage key systems, duplicate keys, re-key, order parts, repair parts and the list goes on. We welcome local walk-ins every day, but not all of our customers are local. We have customers across the country that rely on our knowledge and products to protect them. If you need help with your commercial keys, let's talk!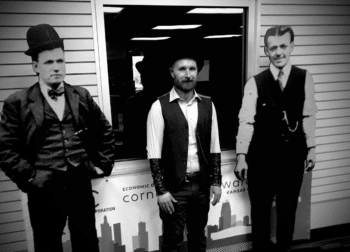 https://kentonbrothers.com/wp-content/uploads/2021/06/unnamed.png
947
1263
Kenton Brothers
https://kentonbrothers.com/wp-content/uploads/2022/04/125th-Anniversary-v1.png
Kenton Brothers
2021-07-14 06:00:10
2021-06-24 08:28:49
Words of Wisdom from William and Leon – Commercial Counter Q&A