From a sleeping bag, a granola bar and a pair of binoculars – to over 400 suspects in less than a minute. How one police department utilizes video surveillance to increase arrests, protect its officers and save time – lots of time!
You may have seen this video recently… it's gone viral in the last few days.
The video is actually from 2018, but it does serve as a reference on how one department in Connecticut would spend days on top of a roof with a sleeping bag, granola bars and a set of binoculars in surveillance of drug houses in their neighborhoods. The dedicated and brave officers would put themselves in harms way to get any intelligence they could on these suspected locations. Once they had their observations complete, they would have to wait for safe extraction from the location as to not break their cover or get harmed in the process of leaving their post.
Sgt. Johnmichael O'Hare explains in the video link that what used to take him thirty-two (32) man hours now takes him less than 1 minute! It's safer for the officer and can point out details an officer might overlook such as additional houses in the neighborhood tied to the drug house, as seen in the video.
Since 2018 the city of Hartford Connecticut has gone area-wide with BriefCam and Milestone.
So what benefits does this platform give municipalities and police forces?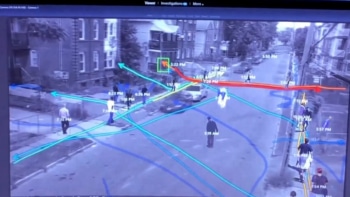 One of our local captains related, "It's a force multiplier. One officer can run the entire system. This system will help with officer shortages."
Other benefits of BriefCam and Milestone?
Dramatically accelerates investigations
Gives real-time situational awareness
Real-time alerting – like having an officer watch video 24/7 (without the officer)
Manage crowds in real-time
Real-time License Plate Recognition and alerting
Traffic optimization
Real-time health management
Kenton Brothers Systems for Security is proud to represent BriefCam and Milestone and can help your organization explore this solution. Give us a call today!
https://kentonbrothers.com/wp-content/uploads/2021/06/BriefCam-Surveillance.jpg
676
1200
David Strickland
https://kentonbrothers.com/wp-content/uploads/2020/08/2020-KB-logo.png
David Strickland
2021-07-07 06:00:48
2021-07-13 12:06:19
From a sleeping bag, a granola bar and a pair of binoculars to over 400 suspects in 60 seconds.