By Kristen Harper, Controller and HR Manager at Kenton Brothers.
Having an intrusion system is critical to protecting your property. At Kenton Brothers, we've recently found the importance of making sure there's a video feed that is compatible with your intrusion system. By having motion detection utilizing your video system, you can catch intruders much more quickly.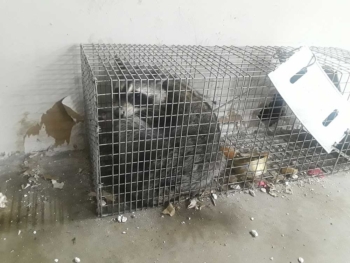 Late one night in August, our CEO, Gina Stuelke, got an alert that there was movement in one of our warehouses. We took a look at our cameras that are tied to our motion detection intrusion system, and sure enough we had an intruder… of the four legged variety! A cute, snuggly little raccoon, (which we later adopted and named Frederick) had started to make a home in our warehouse.
We called in the boys in blue from Blue Beetle Pest Control to set up a couple of humane traps, and sure enough we caught him overnight. As we came to work that morning, nearly the whole office staff looked in on our little furry friend. Later that day, we released him in a nearby wooded area so he could resume a happy and healthy lifestyle outside of the KB Pickle Ball Court.
It was only through our intrusion system that we were able to catch Frederick so quickly and get him to a more appropriate home and minimizing damage to our facility. But we're going to miss his cute face!
https://kentonbrothers.com/wp-content/uploads/2019/09/Frederick-Caught.jpg
750
1000
Kristen Harper
https://kentonbrothers.com/wp-content/uploads/2017/10/Kenton-Brothers-Logo.jpg
Kristen Harper
2019-10-16 06:00:46
2020-02-12 10:31:13
Motion Detection + Video Surveillance = Frederick the Racoon Being Caught