People Counters and Intercoms – Adapting to this New Normal
By Neal Bellamy, IT Director at Kenton Brothers
Like many businesses, Kenton Brothers is adapting to the "Stay at home" order and the "New Normal". While we remain operational, we are changing our operations to reduce risk and exposure for our team and yours. One of the ways we've adapted is by looking at our systems and seeing what they can do for us.
With fewer people in the office, we've introduced some new challenges.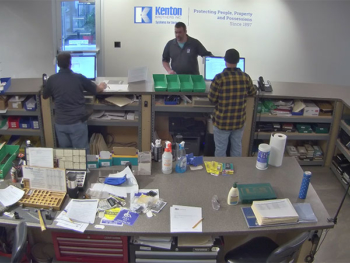 One such challenge is when people come to our commercial counter. The commercial counter is not always staffed like it used to be. The employees staffing our commercial counter are still in the building, but they're helping out other teams. We don't want a customer waiting for service, so we looked to our systems to increase alerting.
In this case, we used the Axis "People counter" software to send alerts to our team members when someone gets to the commercial counter. This counter is loaded directly onto the camera and can send alerts from the camera itself or notify the Video Management System (VMS) which can apply more logic to the alert.
The intercoms installed at our main entrances have become even more vital.
Old intercom systems used to be answered by a physical device at one or two desks in an office or retail environment. Today, intercoms are assigned to an extension on your phone system and can be answered by any station.
Most intercom systems have mobile applications where you can see and talk to the person at the intercom from anywhere in the world. We have an Axis 8105-E and 2N Solo mounted at two of our main entrances. The person who usually answers the intercom is at home, but shifting the answering station to another person was as simple as changing the extension in our phone system. We could have enabled the mobile app for after-hours answering if that was necessary as well.
Although these are "strange times" we can look to technology to help fill some of the gaps. These tools and technologies can  increase our ability to do more with less. If you're faced with some business or security problems in this new world, give us a call. We're happy to help!
https://kentonbrothers.com/wp-content/uploads/2020/04/Key-Shop-FLEXIDOME-IP-5000i-IR-featured.jpg
450
600
Neal Bellamy
https://kentonbrothers.com/wp-content/uploads/2022/04/125th-Anniversary-v1.png
Neal Bellamy
2020-05-20 06:00:31
2021-06-21 16:24:53
People Counters and Intercoms – Adapting to this New Normal