Monkey Brain Art – KC United Art Festival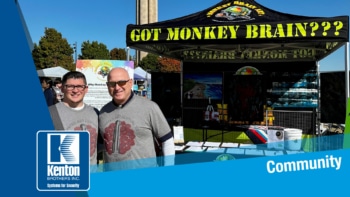 By Erik Andress, Sales Management Professional at Kenton Brothers
On October 8th, we joined veteran artists and local artists to raise awareness and funds for Monkey Brain Art held at the National WW1 Museum & Memorial for their second annual KC United Art Festival. Monkey Brain Art is a non-profit organization whose mission is to use art creation, meditation and mindfulness to calm the unsettled minds of Warriors who have PTSD.
Kenton Brothers participated alongside one of our partners, a sponsor of the event, Black & Veatch. Jon Gann and I helped with the silent auction and raffle. There was a signed Patrick Mahomes jersey, as well as a raffle to win a Garmin watch. And Alana Hanly and her family came by later to help with the take down of the booths. Thank you for allowing us to collaborate and support such a great event and an amazing cause!
To learn more about Monkey Brain Art, or,  if you missed the event and would like to donate to their cause, please visit Money Brain Art's website.
Their Story
Founders, Gary and Trish Walker, have experienced the benefits of the healing practice of art, meditation, and mindfulness to combat the trauma of PTSD. Both having traveled the journey of the unsettled mind, continue to use these techniques to treat their own trauma. Gary, a Disabled United States Air Force Veteran and artist, practices art to quiet his crushing anxiety and depression.
Trish Walker, a licensed Yoga Instructor, and recent Breast Cancer Survivor, provides her experience and expertise to provide help and care for others in crisis. Together, Gary and Trish, bring a blend of art and meditation techniques that will assist in unlocking new ways to cope with restless minds and spirits associated with PTSD.
The Monkey Squad
Their team, The Monkey Squad, is made up of individuals who are warriors who have a huge passion for art and helping walk with their brothers & sisters as they find their way back to themselves.
https://kentonbrothers.com/wp-content/uploads/2022/10/Monkey-Brain-Art-2022-featured.jpg
1080
1920
Erik Andress
https://kentonbrothers.com/wp-content/uploads/2022/04/125th-Anniversary-v1.png
Erik Andress
2022-11-16 06:00:42
2022-10-27 10:03:36
Monkey Brain Art – KC United Art Festival