Kenton Brothers Sponsors The KC Blind All-Stars Foundation 5K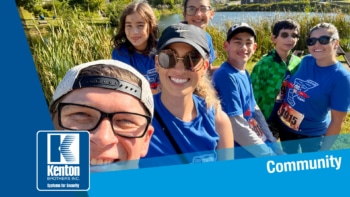 By Erik Andress, Sales Management Professional at Kenton Brothers
It was a perfect (almost) fall morning on Saturday, September 24th, when Alana Hanly and I loaded up our families and met at the Kansas State School for the Blind. The children had donuts; the adults had caffeine. (Ok, ok, fine… maybe a donut or two for the adults as well.)
As soon as we parked, we heard the DJ playing fun, uplifting music! The morning started with a few announcements, a guided warm-up session and a welcome message from KMBC meteorologist Nick Bender and KCKS Mayor Garner. The National Anthem played, and it was at that moment we knew…today was the day we were going to break the world 5K record. Tensions build, the race starts…
So, there we were, walking at the very back of the 5K.  THE. VERY. BACK.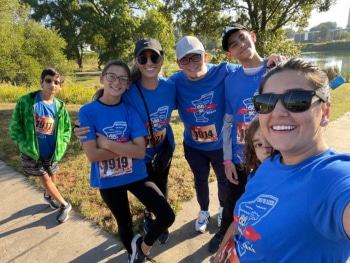 We had our very own police escort to make sure traffic understood that we were still, indeed, part of that 5K they just saw go by. But we weren't alone!  We made several new friends that joined us on the walk. Spread throughout the entire 5K field were volunteers and local cheerleading squads that showed up to spread positivity and awareness.
It was a around mile marker 2 where I asked the police officer behind us for a ride to the end. To which the officer replied, "This ride only goes one way."  I almost considered it!
However, we finished the 5K together and were almost sad it was over.
The conversation and fun we had was a great way to start our Saturday and it was for such a great cause. We can't wait to do it again!
The event ended with a fun raffle and a blind soccer demonstration. (Thanks for having us!!!)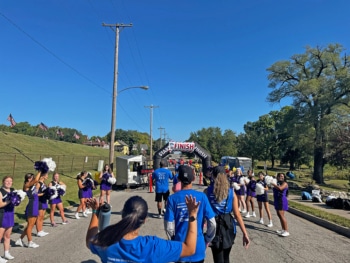 Proceeds benefit the KC Blind All-Stars Foundation (KCBAS), supporting the Kansas State School for the Blind (KSSB). The monies raised from this year's event will go toward replacing the gym floor at KSSB. The goal this year was to exceed what they needed to renovate the gym, then begin work on their other athletic facilities.
At Kenton Brothers Systems for Security, we believe it is important to take an active role in giving back to our community. It is so rewarding to participate in these kinds of events. And we love raising awareness for various not-for-profits doing good work all over the Kansas City Metro and beyond.
https://kentonbrothers.com/wp-content/uploads/2022/10/KS-School-for-Blind-and-Deaf-5K-Featured.jpg
1080
1920
Erik Andress
https://kentonbrothers.com/wp-content/uploads/2022/04/125th-Anniversary-v1.png
Erik Andress
2022-10-21 06:00:22
2022-10-06 14:14:16
Kenton Brothers Sponsors The KC Blind All-Stars Foundation 5K